Review of Soultree Toning Mist –
Soultree Toning mist is an awesome toner of pure rose suitable for Dry to Normal skin.
Product Type – Toning Mist
Color – White like milk
Consistency – Water
Content – 75ml
Fragrance – Soothing ( not high )
Cost – 495/-
Brand – Soultree ( Buy it here )
Precaution – Keep away from eyes ( For external use only )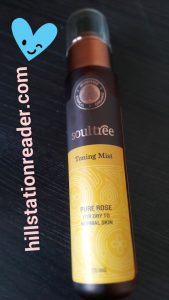 How to use the Soultree toner –
As the name indicates the toner by Soultree is suitable for dry to Normal skin and to apply it first we have to wash our face with some cool water, and then dry it with a fresh towel. We can spray the toner directly on washed face skin or use a cotton ball to apply the toner. We have to close our eyes when we apply the toner else it can be irritating to eyes.
Benefits of the Soultree Toner –
The toner is a blessing in summers, I have used the product personally. It tightens the skin and keeps it soft and glossy. It makes me feel refreshed throughout the day. The product lasts around three months and more and its ingredients of pure rose spreads a lovely fragrance in the air that it keeps my mood good