Book Review – The Cheery Tree
The book cherry tree is a short story written by Ruskin Bond, I am a voracious reader but many times I just like to read short write ups to cheer up myself and this is why I picked up the cheery tree by Ruskin Bond.
About Ruskin Bond –
Ruskin Bond is an Indian author born in Himachal Pradesh and brought up at Jamnagar Gujarart, who write children stories. He is my favorite author since childhood, he writes poetry, fiction and non fiction stories based on the experiences of his own life. Many times I feel his story attaching to my heartstrings so I love reading him. I have grown up but he will still be my favorite author. He wrote his first book The Room on the Roof when he was 17. And he leaves in Landour mussorie with his extend family.
About the book, The Cherry Tree –
It is a short story revolving around three person Rakesh, his grandpa and a cherry tree. It contains beautiful illustrations with eye captivatunf pictures describing the bond of a Grandfather and his grandson.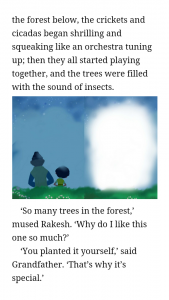 I am really touched by the simplicity of the characters yet giving the greatest lesson of life.
In the story Rakesh's Grandfather teaches him to sow seeds to get the fruits in life that is work hard for success.
Rakesh than plants cherry tree and the story shows all about the difficulties Rakesh faces in bringing up a tree, same is with life.
our parents brings us to this world and then shape us to be great human beings, they face many difficulties in it, and along with growing up we become favorite of our parents.
So it gives a message to bring up things in a good manner so that when they become big they are of some use to us back.
Rakesh the guy who stays in mountains have many treed around him but still his affection for the cherry tree was unconditional, it was his favorite tree because he planted it from his hands.
I loved reading the short story with so many big messages in it.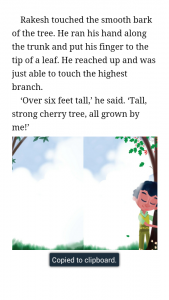 Product Type – Ebook
Author – Ruskin Bond
Pages -72
Cost – 87 ( Google Play Store ) Buy it here

Published by – Penguin UK Penguin Books India
Published on – November 5, 2012
​