Ocean Bath salt by Soulflower
Recently I ordered the Ocean bath salt in blue color by Soulflower from Shoppers Stop. I loved the way the product reached me, with very delicate packaging, it is a bottle, covered with butter paper from top with a thread and then decorated with handmade blue paper.
This all little efforts by the brand Soulflower makes me attracted towards them. They aren't doing more off but have got the best products for us, so I love them.
About the ocean Bath Salt, SoulFLOWEr-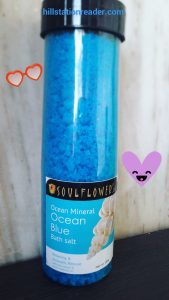 Product Type – Bath Salt
Brand – Soulflower
Cost – 350/-
Color – Blue
How to use the product ?
Take some hot water in a container, add two caps of the bath salt to the water, and let it dissolve for few minutes.
When the water cools down we can mix it to the whole bath tub water, and enjoy a cold shower.
It relaxed the bath, makes you comfortable and cool. The bath salt is also helpful in taking away pain of joints and keeps you cool. It contains vitamins oil which helps in ante aging. Lemon extracts in it takes away dead skin.
When I used this salt I was so refreshed that I ordered 5-6 of them in all colors from the website. it takes away my whole day tiredness and I can have a peaceful sleep in night. Also soaking legs and ankles in the salted water helps in taking ankle pain away.