Reviewing HAND&Foot Cream by Soultree
Product Type – Hand&Foot Cream
Product Brand – Soultree ( Buy it here )
Content – 100gm
Price – 395/-
Ingredients – kokum, honey, mountain rosemary, turmeric, almonds, aloe, apricot, coconut, oils of organic Seasame etc
Rating – 5/5
Hand and Foot cream by Solutree is an ayurvedic remedy for healing the cracked skin
It is an intense care abd repair cream and I have been using it on feet and hands from a long time. I am loving the product because of its result on my skin. It is fragrant and soft in texture.
How to use the HAND&Foot Cream ?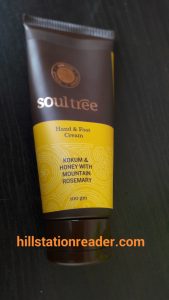 Wash your hand and feet with room temperature water and dry them of with a soft cotton towel.
Take a little amount of the cream and apply it over the hand and feet and massage gently.
Leave it overnight and you can see the result, your cracked skin will be healed soon and you will see the skin softening and lightening.
You can also apply the cream during the day too but for the best results apply it after washing the hand and feet.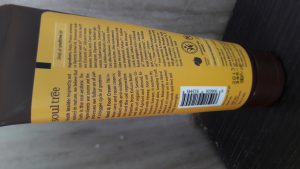 The cream can be used up to 30 months from the date of manufacturing.