About Baby lips Electro Pop by Maybelline

–
They are the best treasure I have, yes you heard it right I call them 'treasure' because these little baby lips balm by Maybelline as a treasure and carry them with me in my denim's pocket wherever I go. Once my electro pop, barbie pink shade was lost when I was in a friend's marriage party and I cried for it like a kid weeps for chocolates.
Currently I have two electro pop baby lips shades of the color Berry bomb and today I am going to review them.
Review of Electro Pop ( Berry Bomb ) Baby lips –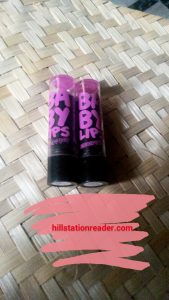 Product Brand – Maybelline
Buy them at – Nykaa
Product Type – Lip Balm
Content – 3.5 gm
Price – 165
Review – I love Maybelline India for their very light makeup series, they add beauty to my skin without damaging it.
I am fan of ElectroPop (berry Bomb) shade because it contains the perfect shade a girl need for the little party look or on the traditional and ethnic costumes.
It suits my lip and takes away all the chapped lips.
Its regular usage adds a light pink color to lips and protect lips from drying again and again.
More on that wearing the color on the lips gives them perfect pout selfie look, it makes our selfies better.
Disadvantage of the cute little baby lips –
It won't be right if I don't disclose the fact that didn't please me and i don't want to be biased with my review so I am sharing it here, The only disadvantage I found in the baby lips is, it melts in summers and it needs to be reapplied two-three times a day.