Roald Dahl Collection : Book Review and Ratings –
Roald Dahl is my favorite children's story book writer. So last December I dedicated completely in reading his books. I won these books in a twitter giveaway organized by  Crossword Bookstore on account of his birthday Anniversary. Roald Dahl Collection box set is a collection of 15 amazing books by the author including his autobiography. The author was also a live victim of World War 2, and fought courageously as a fighter pilot against Germany mentions his life book.
Genre – Children's Books but everyone is kid at heart and I can read his books anytime to feel that child inside me.
You can buy the amazing box set here –
Ratings – 5/5
Publishers – Penguin UK
Inside the Roald Dahl Collection Book Reviews –
Matilda –
This is a magical book. The book is a story of a little girl who loves reading books to a great extent. Book also shows the discrimination between a girl and a boy child and how this little girl feels magic within her and fights for her right. The book is an eye opener to such parents who under estimate their girl child. It also shows bad behavior of some teachers at school. I laughed a lot while reading the book and felt connected with Matilda because Like her I love reading too, and I find joy in it.
My favorite quote from the book is – Magic happens to those who believe in it.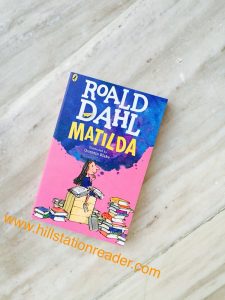 The BFG –
This is my favorite fantasy book from the Roald Dahl Collection . I loved the idea of a big friendly giant coming to us at night witch hour ( witch hour when all the kids go to deep sleep and starts dreaming, The BFG caught their dreams with the help of dream catcher ) and catching our dreams and then destroying the bad nightmares. I was in love when I read this book, I smiled with every line of the book. Roald sir is best when it comes to writing magic. His pen creates magic. There is certain level of discipline in his language.so I wish kids read such high level of fantasies. It will improve their thinking skills and grow their capabilities to be innovative. I wish the time comes back where parents read bedtime stories to kid instead of making them to sleep with lullaby on phones or cartoons on TV.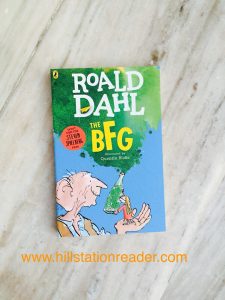 Charlie And The Chocolate Factory and Charlie And The Great Glass Elevator –

These two books are in series. Charlie and the chocolate factory, after reading this book every kid want to be the owner of such a dream chocolate factory by Mr. Willy Woonka. I am surprised when Mr. Willy Woonka announces the golden ticket contest and then takes kids inside his factory to each rooms. This book left me awed. Every room inside chocolate factory has beautiful description by words of Roald dahl. It will make you hungry for chocolates again no matter whatsoever is your age. I loved the oompah loompas and their so realistic poetry.
Charlie and the great glass elevator is the extension of the first book. It is no less than the first one. I ended up laughing at times at the president, his cat and nanny. There was beautiful description of having a space hotel. In the books also conveys a message that being greedy will always take us in some mischief. So we should be happy with what we can have in life. I was happy with Mr. Willy Woonka innovative glass elevator and the whole medicine chocolate he created.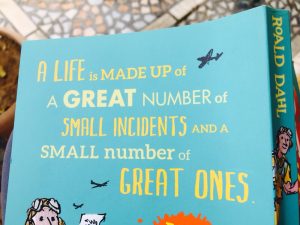 Boy and Going Solo –
These two books are the autobiography of the author in the Roald Dahl Collection . Boy is about his childhood days and Going Solo is about the life he spent alone away from his family in becoming a successful man. In the book Boy, it describes the life of Roald Dahl from the day he was born, then brought up, lost his father, summer vacation with his siblings,and mother. I loved the hobby of Roald Dahl writing letter to his mom everyday when he went to hostel. He maintained writing letters in a beautiful handwriting and also continued writing even when he left outside for work. For me the happy gesture was when he found all his letters left for him as a memory by his mother. This became a treasure for him. I was very angry with the teachers who punished such badly to kids at school. It always create fear in kids mind. So I am basically against punishing kids so badly. Then In Going Solo describes the life of Roald dahl when he was away from his mother. I loved that the author always carried a camera with him to capture the moments. I loved it when author denied jobs because he wanted to work at a place which was beautiful with flaura and fauna. Reading those world war 2 fighter pilots attacks, drew me back to those old days where people risked their life for nation. Snake Mamba was something new I learned about from the book. He must be very scary too deal with, overall I loved his life.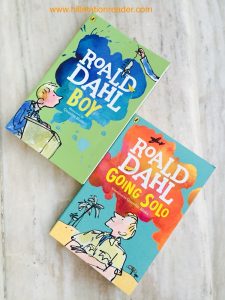 Danny The Champion of the world – 
This book is my favourite book among the all the books. I love my father the most and in the book is description of Danny and his father. The book beautifully describes how a father brings up his son, in a well defined way. He made kites him, took him to garage and then the adventures in the poaching farm was totally full of fun. His father was totally splendiferous.

I loved the Quote from the book –
When you grow up and have children of your own, do please remember something important!.

A stodgy parent is no fun at all!

What a child wants and deserves is a parent who is SPARKY!.
The Magic Finger –
Do Good, Have Good. The book revolves around this message. There are times when we very rude to animals so the book is a lesson to all those who troll animals. In the book a family always shot ducks who came to their garden so a little girl wants to change them so by turning her finger towards them she converts them into duck too and then they realise the pain of being an animal.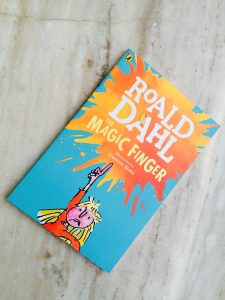 The Witches –
This book really scared me. I would be really scared whole my childhood of witched If I had read this book in my childhood but luckily I am an adult now. I was very happy the way the little baby and his grandmother makes plans and tries to vanish all the witches from the world. Reading about witches and the grand witch and their party was really making me curious to know what wil happen more and it kept me hooked till the end.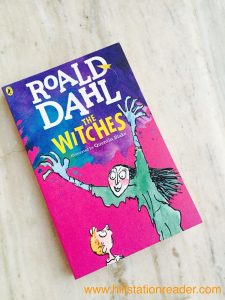 Esio Trot – 
It is a little love story. A person in the book loves a woman and he creates a beautiful plan to make the love of her life happy. There is beautiful poetry wise illustrations in the book which are rhyming and are good for kids to read. It will improve their skills in poetry writing and reading.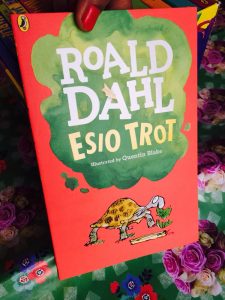 The Giraffe and The Pelly and Me –
This story is a fun read.This books and most of all the books by Roald Dahl are fictional so they will give wings to our brain and will open our imagination power. At times we will be so much in love with his imaginations that we will be surprised reading the magic in his writings.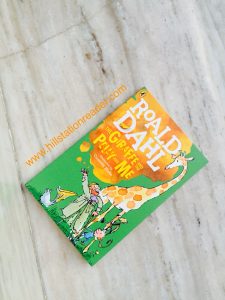 James and The Giant Peach –
This book started emotionally for me. I was sad when James lost his parents and had to stay with two rude aunties of his but I was happy when a Magic happened and he found his new friends. I was spell bound reading about such enormous peach And those giant animals inside it. They were so friendly and the ride with them was totally splendid. I loved when it describes about the creation of rainbow with colours and paint, making of ice and rain. Everything was so magnificent to read it.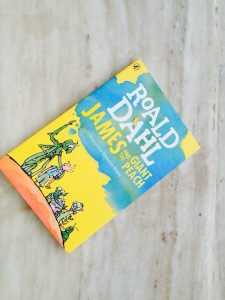 The Twits –
The twits was a funny book. I ended up rolling on floor while reading the book. I hate Mr and Mrs. Twit both. They behaved very bad with the monkeys and those innocent birds by sticking them on the trees with glue and then making their chicken dishes. They also trolled monkeys by ordering them to sit upside down. But I was happy when Monkeys taught them a lesson by taking a revenge with those bad people.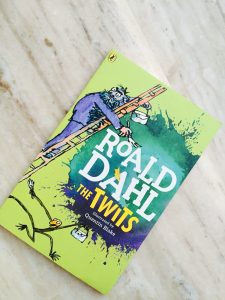 This book from the Roald Dahl Collection  also had my favourite quote which became a life time lesson for me –
If a person has ugly thoughts, it begins to show on the face. And when that person has ugly thoughts every day, every week, every year, the face gets uglier and uglier until you can hardly bear to look at it.

A person who has good thoughts cannot ever be ugly. You can have a wonky nose and a crooked mouth and a double chin and stick-out teeth, but if you have good thoughts it will shine out of your face like sunbeams and you will always look lovely.
George's Marvellous Medicine – 
You will end up laughing this book when you read it. In the book George creates a medicine with so many ingredients available at his home when his mother was out of home. He was a mischief when his mother was out of home. One will love reading the story.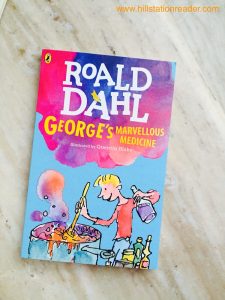 Fantastic Mr. Fox –
This book contains a funny story read where A fox acts cleverly and protects and provides yummy food to his beloved wife and kids. You will reading the tricks Fantastic Mr. Fox uses throughout the book and book clearly throw light on the factor that we humans scare and kill the wildlife for no reason. They should be protected but humans are selfish and find fun in creating trouble to the innocent animals.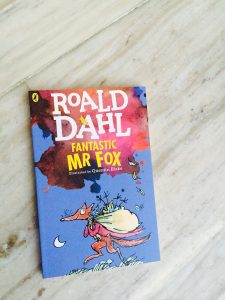 Conclusion : A BIG yes to Roald Dahl Collection box set –
This Roald Dahl Collection books box set is a must for every bookshelf. It will be good if kids read this amazing books instead of engaging themselves in video games and TV screens. It will enhance their imaginations and take them to a beautiful world full of fantasies.
For other book review related post check