Are you a Bibliobibuli?
Bibliobibuli – Recently I learned a new word " Bibliobibuli " which is related to booklovers. The word refers to people who read books a lot. It is a Greek-Latin word and came into existence in 1957 by H.L Mancken. The word is made up of two words biblio ( Greek ) and Biblious (latin). Biblio means books and biblios refers to bibere which means drink. This word must be an expert creation as I believe books and drink are the best combination ever. I read my book mostly with a cup of coffee or green tea. I am currently reading Thirteen Reasons Why book by Jay Asher and here is the detailed book review.
Hope you like the review and buy it because it is one of the most creatively written book I read in the last few days. I am inspired eith the concept in which the book is written. It is something very different from usual books.
After reading the book I also suggest you to watch the series of Thirteen Reasons Why over netflix.
You can hear Hannah's tapes at Hannah Reasaons
Ratings – 4/5 ( based on writing skills )
Author – Jay Asher
Publisher – Penguin Books
Thirteen Reasons Why 
This book Thirteen Reasons Why is an international bestseller and my brother gifted me. I am impressed with his choice of selecting the book for me. I loved reading it as well as it is fabulous concept wise. I asked my brother, how do you got the idea to pick up this book ? To which he replied, I read the reviews and check the ratings. They impress me a lot. From that day I too started to read readers reviews before buying a book.
You need guts to read this book. I will say don't read this book if you are dipressed over something. It will make you cry at times. It is a story of a teenage girl who mentions 13 reasons why she committed suicide and clearly tells that she won'thave attempted this all if there was anyone with whom she could share all her burdens of heart.
I will request parents to be open to their kids and kids to avoid overthinking. Life is beautiful, look at a flower it is blooming to cheer our garden everyday. Same is with us we are flowers of our home, without us a home is like a rose plant which have only greens.
My views on storyline ( Thirteen Reasons Why ) –
Many times we see teenagers are doing such acts because of load of studies or love and relationships issues which according to me is not fair at all. How can we all be a fool and do non sense acts ? Is being in a relationship so much important at just a teenage? Then in my views it is just fancy headache, I am happy to enjoy my life as much freely as much as I can. So being single should be a choice and there is nothing to be ashamed of it about.
So teenagers if you get such a things in mind, don't end your life speak up.
Speak whaever comes to your heart and mind with the closest person or even a stranger and come back to life with a bang.
Life is too short to be wasted for depression love and studies. No one else can love us as much as our parents and we ourselves can. If you are ready to hurt yourself then how can you expect love from someone else? How can you expect that others will love a self centered girl who don't have the courage to face life. Respect your body and soul.
I will say I like the book as a reader point of view but I am least impressed with the storyline and thr message it is conveying to others. Will you be happy to end your life on a fancy note and getting famous after death ? No na so I will say use your brain don't create 13 reasons why of a suicide instead create 13 reasons why I am successful or happy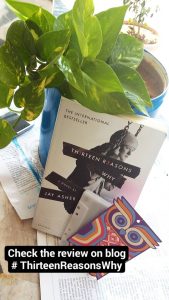 Buy the  book here –
Thirteen Reasons Why
Disclaimer – The review is bias free and written after reading the book.