Wonder is a children fiction. The theme of the story is kindness. There are seven books in the series. I read the unabridged version of the series. When Author R.J Palacio wrote the first book Wonder of the series, she never planned to write the sequels to it. The book is showcased as a movie too. And now there are six more parts of the series.
The first book is story of Augie Pullman. The other books of the series are based on his friends and the impact of him on them.

You can't blend in When you were born to stand out.

Quote from book Wonder
Ratings – 5/5
Author – R J. Palacio
Publisher –Random House Children ( UK )
Genre – children's book
Is there a movie on the book ? – yes, there is. But the book is always my first choice.
kids should read wonder series
The International bestseller book Wonder in my words is a really wonderful book. When I start a book I check the count on its pages and in this book there are 400 plus pages, it gave me a little heartache but as I began reading it, pages turned one after one and I finished it in just one day. Yes, the book is that good and here my Wonder Book Review will say it all on why I loved this book a lot.
Before I begin the review there is a question for all of you readers, Have you ever seen a deformed person ?
What were the thoughts in your mind at that point ? Were you looking to their deformed part hiding and gossiping silently about their deformity at their back ?
I am expecting a yes from all of you on this answer. It is common in many of us to do the same but we all forget this that we are hurting that person by doing so. It wasn't his mistake that he is deformed or lost a body part in an accident. I highly recommend parents to get their kids this book so that they learn kindness lessons naturally.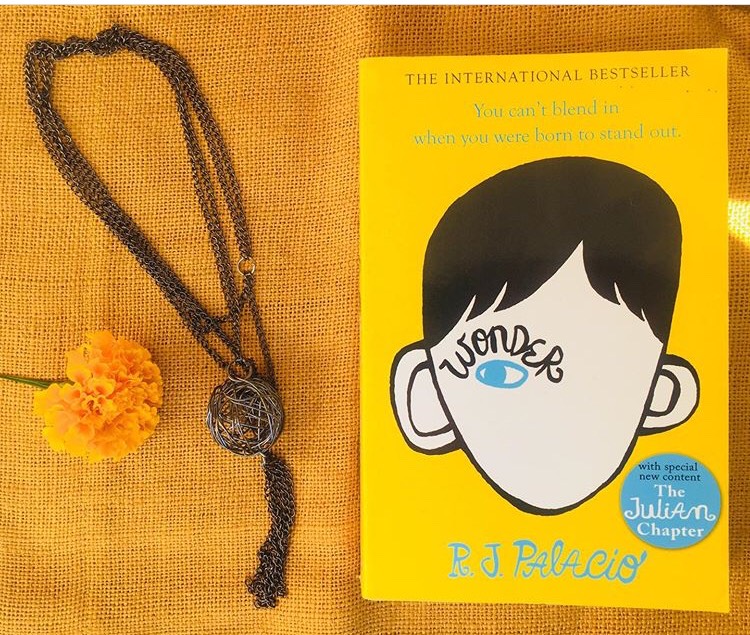 Wonder Book Review –
The book wonder is story of August, a deformed boy who was born deformed by face. He spent early years of his childhood at home. His mother taught him school lessons at home but when he was growing up it was decided to sent him to school.
He was a strong boy but he was nervous, because up to now he was always around his family. Going out of home taught him about the nature of outside people. His parents, the principal of the school and few students like Summer they hold to be my favorite characters from the book. I love the scene where the school goes for a trip and they watch a movie at midnight on projector under the sky and blanket of stars. The book also describes the love for animals. I loved August bonding with his pet. August as a character was a very strong boy, a book lover, a deformed boy who shined bright because he didn't care what the world has to offer him, he was always enthusiastic and whenever he felt low him mom was always there for him as his inspiration.
And here are the books that I recently read and reviewed Scion of Ikshvaku
And Thirteen Reasons Why . Other books children should read are Roald Dahl collection and Enid Blyton books
The Julian Chapter
A wonder story. The main character of the story is Julian. Although all the stories of wonder series starts around Augie. This one is a must read for kids.There is a beautiful storytelling session in the story by a grandmother to her grandson. That story shaped the life of Julian to be a better person all his life. There are many favorite quotes that inspires us. The story of Julian's granny was very close to me and overall the book conveys a message that is to be Kind above everything in life. Kindness is a rarity and can take you to a different height.

Shingaling
The main character or the narrator of the story is Charlotte. She tells in the story about her crush on Jack and Mr. Touchman There is beautiful description of Shingaling song, vein diagrams, accordion. This book is a school life story about friends, about trolls, about kindness and about passion.
Their dance teacher was a hit who paid a dollar every time she was late and later 5 dollar when she couldn't get over coming late again.
It is a simple and slow read and yes, we all like Charlotte. She is too busy in her own life to notice what all is going around in Augie's or Jacks life. She is all by herself
Pluto
Pluto is the story of Augie's best friend Christopher. It is a book on friendship. It is a short story describing how a little boy finds out that he is disturbed to introduce Augie as his friend to his high school friends. He also realize the importance of parents specifically mother in everyday life. Later when he gets struck with a mathematics problem and his mom can't help him due to accident he realize how quickly Augie understands him and help him learn.

Augie & Me
Augie and Me is a compilation of three books, The Julian Chapter, Shingaling and Pluto. The idea behind this edition was to bring together 3 short stories in a book to make it reader friendly. All these stories represent the idea of wonder through his friends point of view. This edition is nothing different but those three books brought together. Read the separate reviews on them to know about them.

365 days of wonder
In the Julian chapter there is a teacher Mr. Browne.. He asks his students on class one to write a postcard from where ever the students are on their vacation and had to mention something new that they learned through out the year. So this book is mainly a collection of quotes by his students, teachers and some other personalities. It is a collection of quotes related to kindness, friendship, love and strength.
When given a choice between being right or being kind,choose being kind.

Dr. Wayne Dyre
We are all wonders
This picture book by the author is a book based on Hope. I recommend parents and teachers to read this book so that they can teach their kids to be Kind. The lovely pictures in the book are going to fascinate kids a lot and help in a better way to learn easily. The book mainly describes how does it feels to see the world and others from Augie's point of view. It will break the barrier to disrespect or behave unkind with anyone.
I am taking my blog to the next level with #MyFriendAlexa challenge with Blogchatter .