Ganpati Bappa is known as the vighanharta. He heals all the worries and is worshiped as the first God as per Hindu mythology. Ganesha Chaturthi is celebrated as his birthday every year. People bring tiny and huge Ganesha for 5,7or 11 days or even for a month. He is offered a new bhog each day. They worship the idol with love and affection. They dance and decorate the idols. The celebrations are done in a grand style. Lord Ganesha is a foodie and his favorite food is Modak.
Ukdhiche modak or traditional steamed rice modak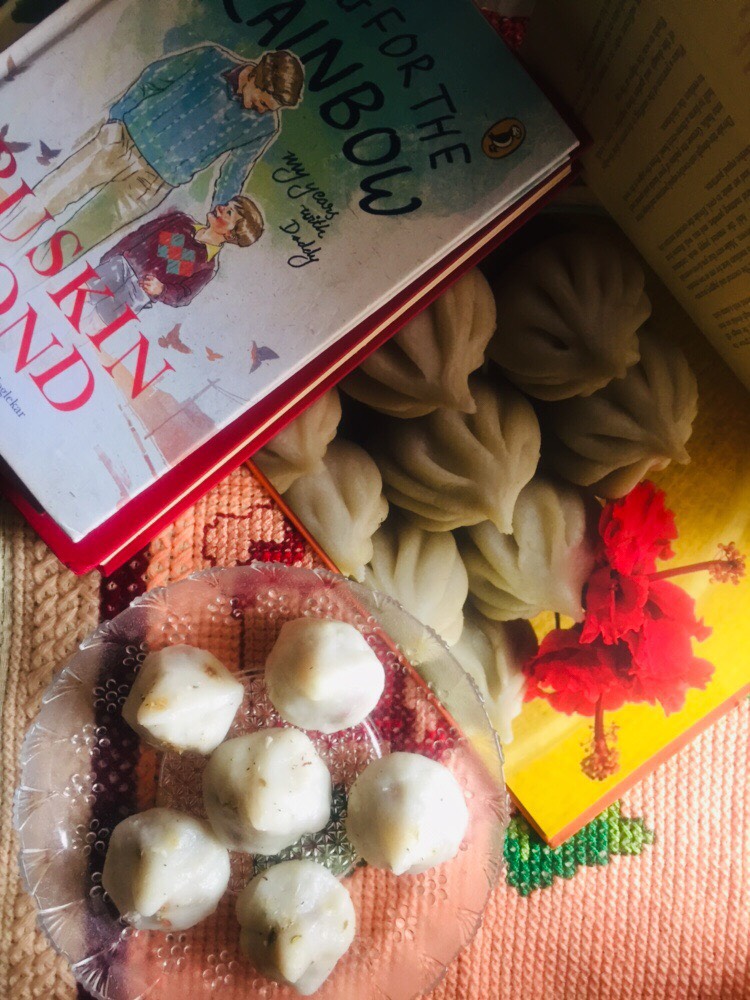 Last year on Ganesha Chaturthi I made modak but it didn't come out good so this time I followed a traditional recipe and made them. They came out perfect. follow the recipe, step wise and as per proportion. It is important otherwise like me during the last year you will be left with messy dough and dishearten yourself. The best proportion for making modakam is 1:1 of rice and water
Take 1 cup of rice floor. Use refined floor, so strain the floor with maida strainer.
Take 1 cup water, boil it.
Add 1 tsp ghee and salt(as per taste ) to boiling water.
Now add the rice floor to the boiling water steadily.
Mix it and close it with a lid for 5-7 minutes
Now while the mixture is resting, lets prepare the stuffing on other side. Modak stuffing can be flavored in many number of ways. You can change the color by flavoring the water with saffron or food color or even use fruit juices to prepare the mixture. or add fresh fruits or chocolates to it.
modak stuffing ( Gulkand or rose flavor)
Take some jaggery, and grate it with a grater or knife.
Mishri pieces
Grate some fresh coconut.
Add Gulkand into it ( optional ) . check Gulkand recipe.
Now chop some cashews, raisins , unsalted pistachios and almonds
Mix everything together, our stuffing is ready.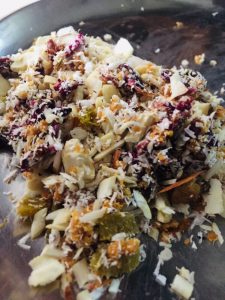 You can also heat jaggery and brown the coconut. Then add all other ingredients. I prefer it dry because while steaming,it will melt anyway and give a nice texture inside modaks.
After preparing the stuffing. Open the lid of mixture and knead the dough. At this stage add 1 tsp ghee for making the dough.
Knead the dough softly. Grease some oil in palm of your hand and then take tiny portion of dough. Roll it pressing with your fingers softly.
Add a small portion of stuffing into it, and shape it as traditional modak.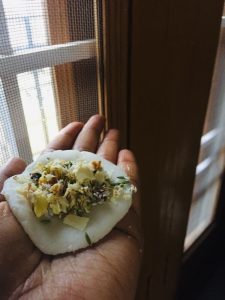 Ready all the portion. Take a banana leaf or even corn shell . place the modaks on it. If you don't get fresh leaf, keep them directly into steamer. Grease it with some ghee and steam the modaks for 30-35 and tada, they are ready.