Quotes from the book the forests of enchantments that can act as a life long learning –
Love's contradictions, how it fills us with joy but also with worry for welfare of the loved one and pain for his suffering.?
True transformation can only happen in crucible of suffering.
True love is the strongest intoxicant of all, the drink of deepest oblivion.
Forgiveness is more difficult when love is involved.
Such is the paradoxical power of the mind, when we control it, it's our best friend but when we allow it to control us, it becomes our worst enemy.
How entangled love is with expectation, that poison vine! The stronger the expectation, the more our anger towards the beloved if he doesn't fulfill it – and the less our control over ourselves.?
Once mistrust can wound it mortally, love can't be fully healed again .
Book Review –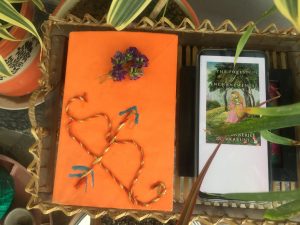 The forest of enchantments written by Chitra ji and published by Harper Collins India is a story about Sita, a character picked up from one of the ancient Hindu Epic Ramayana. She and Ram were the central characters of the story among whom the story revolved around.
Married ram and 14 years of exile –
The book mainly highlights to show the hidden trauma that Sita faced during the exile. Raja Janak found her in a field. She became princess of Mithilia. Sita married to Ram, the Ayodhya prince, he broke the Shiva Dhanush. It was the bride price for her. After that she went to 14 years of exile with her husband and brother in law. She enjoyed the journey of forest and made it beautiful by planting different plants everywhere.
10 years of exile after returning from vanwaas
During 13th year of their exile, Ravan kidnapped her. Ram fought with Ravan to get Sita back.
Later civilians of Ayodhya questioned her on purity and undergone fire test. She went back after passing the test with Ram to Ayodhya and became the Queen of the palace. She was pregnant with twins. Public of Ayodhya demanded her to prove her sanity. She went to forest in sage Valmiki hut and gave birth to Luv Khush and brought them up alone. Later when they met King Ram, the question of who is their father arose. This tired her now. She came from Earth and went back to earth's crust.
The book also tells about the facts like she was daughter of Ravan and many other things like she healed people with herbs, learned self defance, she used to talk to Shiva Dhanush etc.
There are different stories on Ramayan by different authors. Ancestors said that we should consider Valmiki and Tulidas Ramyan for ultimate truth for the curiosity. Overall I enjoyed the beauty as descriptions but not from the point of view of truth.
---
Are you someone who enjoy reading mythological fiction ? Then you must check books by Author Amish , Here is my review of Scion Of Ikshvaku the first book of Ram Chandra series.