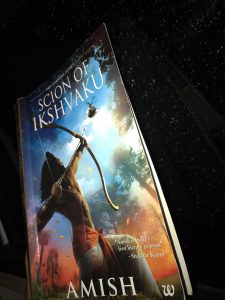 This book is written by Amish Tripathi. After the blockbuster success of Shiva Trilogy, author Amish have come out with Ram Chandra Series and Scion of Ikshvaku is the first book of the series. Readers  say that Amish have rebuilt the curiosity of
In youngsters.
Ratings – 5/5
Genre – Fiction 
price – 350 
Other books Recommended by us of the author –
 One must read to know the true essence of Ram Chandra Series
I loved reading this book very much. My grandfather is very much Influenced by Ramayana so from childhood days I have been watching T.V series on Ramayana and heard stories about characters of it by him.
They really appealed me to lead an ideal life.
 After reading the book Scion of Ikshvaku  I have different opinions on so many characters.
In all the t.v series it shows us Rama was the favorite kid of King Dashrath and all his three wives but in the book the story is totally different. It opened my eyes and took me to real stories rather than tye show off ones by tv channels.
King Dashrath never talked to Ram all his childhood because of the lost battle plus Kaikey ruled his mind but later one day during their visit to hunt aninals, he first uttered a word to Ram and then was the time when Ram actually received his love.
 The book nicely describes the bonding between Lakshman And Ram and the reasons too Why Lakshman always protected and stood besides Ram because his mother Sumitra influenced him to be with Ram from childhood, she had her reasons but Lakshman was with Ram without anything in his heart.
I was happy to read about the carvings of Sukhracharya on stone, sun temples and all other things like Guru Vashistha lessons to his students about history, masculine and femaline way of ruling the kingdom.
Perfection has a price, and many paid that price says Scion of Ikshvaku 
The book also brings in notice about the rape case of Radhika and also that How a minor who committed the crime couldn't be punished just because it was against the law to give capital punishment to a minor. Later Bharat kills him but it wasn't under law. In the book Guru Vishwamitra asked Ram Lakshman to accompany him and takeaway the Asuras because they were ruining the ashram. There it says that this tribe believed in 'Ekam' that is only one God so it slowly came on the way of extinction because it had its side effects.
These people started to hate the people who didn't follow them and worshiped all the other Gods. Slowly Asuras and Devas collided And finally devas won.
This shows that old law have to be changed with time because it cannot work smoothly all the time. Same is with the rape cases happening around today in present world, many times minors aren't punished because it is a law which says minors are not to be punished, but then my simple question is How dare a minor commit a crime and do something which he is not legal to do even though if it is not about rape?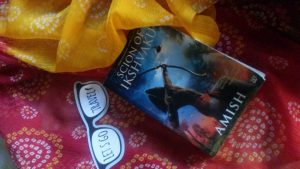 In the book Scion of Ikshvaku  I got to know the reason of 14 years vanwaas, I was never aware of the Asursutra and the divyaastra by Lord Rudra and precautions to be followed by taking advice from vayuputras.
Jatayu was a great man, he sacrificed his life for Sita, and also helped sita in jungle and provided her with Somras.
somras helps in keeping a person young as well as a person gets sick when he takes somras for the first time was actually very new to me. I was very happy to read about the purest form of love between Ram and Sita
My favorite quotes from Scion of Ikshvsku are –
I have become alive. You have made me alive.

She has that something, like the thread in a crystal-bead necklace She holds it all together
I am happy with the humor in the book and with the knowledge about every character of book like Lakshman loved horse riding, Shatrughan loved reading books, Manthara was a very rich woman who was cursed so she was bent, Radhika the noble lady loved treating patients for free and had a pious heart.
Conclusion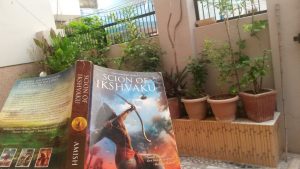 After reading the book I believe
the author actually did his homework very well on the book. Everything he mentioned in the book is written after evaluating it from history sources. Not a word is less or more in the book. The book Scion of Ikshvaku is a must read to know the real essence of Ram Chandra Series. Book two is Sita warrior of Mithila which will be my upcoming read.
Disclaimer – The book review is written after reading the book personally. It is bias free.
Related