Monsoon is here and when it rains the petrichor reaches our nostrils making us hungry . It increases our cravings to eat yummy food. Going out and eating is risky due to spread of Covid -19 . It happened with me too so I made a delicious garlic bread at home maintaining social distancing. My bread had a little twist in it as along with the cheese I added plenty of vegetables in it to make it a wholesome snack. When the bread starts baking the aroma of butter, garlic and onions fills us the room. Also it tastes divine.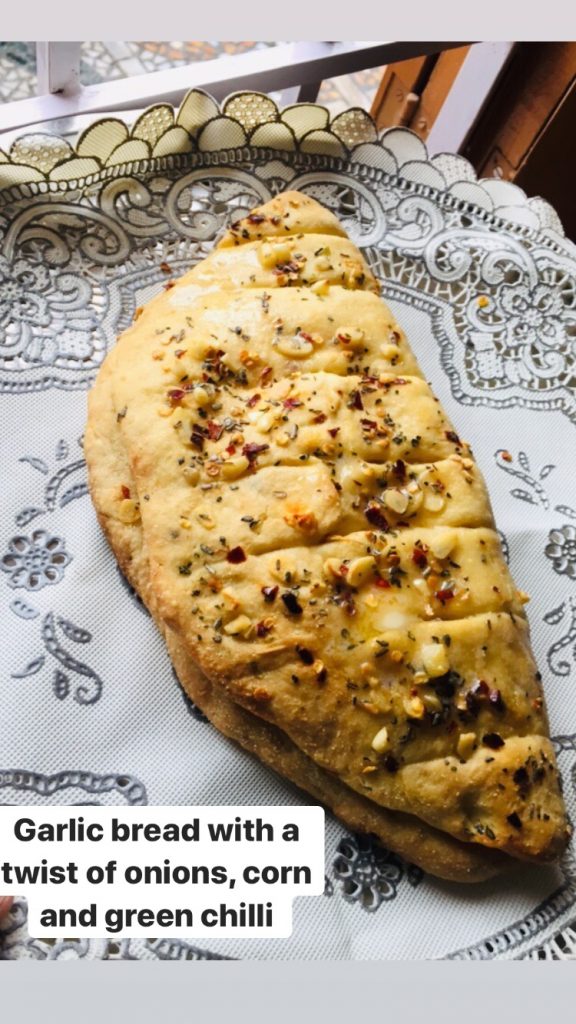 How to make yummy garlic bread with vegetables stuffing –
Take 2 cups all purpose flour
baking powder – 1/4 tsp
baking soda 1/4 tsp
salt – 1/4 tsp
sugar – 1/4 tsp
1 tablespoon curd
1 teaspoon butter or oil
Make a dough, rest it for 30 minutes.
Garlic bread seasoning –
Take melted butter in a bowl , add oregano, chili flakes and minced garlic in a bowl , mix the seasoning. keep aside
Setting up the garlic bread for baking
When the dough is ready, roll it. Brush the seasoning in every part, add sliced cheese, sliced onions, and corn to it.
Then carefully lift one end the rolled base and stick to other end, layer it to semi circle. Stick it with the help of butter, apply the seasoning on top and add knife marks on top layer.
Baking the bread
Bake it in oven for 15-20 minutes at 180 degrees.
Or use a Tandoor or whatever option available. Grease the base with oil and cover the lid for 20 minutes on low flame. Do the toothpick stick check for confirmation.
Enjoy the cheese burst garlic bread hot with a warm cup of tea. Share your reviews in the comments section. Also check the recipe of homemade lemon pickle, it also is a source of B12 and boast immunity.