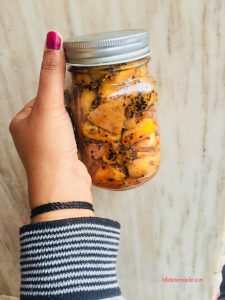 Sweet and tangy homemade lemon pickle recipe from lemon peels –
Lemon, the word itself is enough to bring tangy flavor to the mouth, yes na ? If you say no then do one thing imagine yourself chewing a pulpy lemon half, Tangy na now ? Obviously, yes and my dog loves munching on these lemon skins and then jumping in joy. Recently I got some fresh handpicked lemons from an organic farm yard and thought to make the lemon pickle. The pickle is healthy and homemade, it boast immunity of a person if eaten regularly with meals and a good source of Vitamin B12.
The lemons were fresh, aromatic and big in size. I took out the lemon juice and stored it in some glass bottle because in the season lemons don't last long, they get rotten easily due to cold weather. Looking at the aromatic leftovers peelings of lemon, I didn't had the heart to throw these all, so I decided why not use the grandmother homemade lemon pickle recipe and enjoy the yummy treat in winters. It is a multiple lemon pickle recipe and also a healthy option pickle in winters to avoid bad throat and cold.
homemade lemon pickle recipe
Ingredients required –
Fresh lemons – 10 in number
Black Salt – 2 tsp
Common Salt – 4 tsp
sugar – 6 tsp
fennel seeds – 2 tsp and partially grinded
Red chili powder – 2 tsp
Fenugreek seeds – 1 tsp
Black pepper – 1 tsp
Onion seeds (kalunji) – 1 tsp
lemon juice – 4 tsp
process of making lemon pickle at home the traditional way
Wash the lemons, dry them then cut into halves, squeeze the juice out of them in another container.After that we will again cut the halves into further pieces.
Take a glass pickle container, put the lemon and then sugar, salt and all other ingredients into it. Keep this container under sunlight for 10 days. Keep mixing the jar twice a day to avoid rottenness and this will also combine all the ingredients throughout the pickle equally. The tangy and sweet lemon pickle will be ready to eat within 10 days.
Note –
1.You can also add or avoid any ingredient as per your taste. Nothing is compulsory except lemons in the pickle.
2. The pickle complete can be sweet or complete tangy by avoiding sugar and salt simultaneously. For this all you have to do is to increase the quantity of salt and sugar as per the taste. Black salt will be common for both sweet and Tangy lemon pickle.
3. People also add ginger and carrot slices to the bottle and enjoy a mixed pickle with the same recipe. It improves immunity.
4.I often just added lemon, black salt and black pepper and pickled only these three. It is healthy a recipe.
---
Enjoy the delicious homemade lemon pickle recipe. Share your reviews in the comment section below and also do check Corn Silk Tea recipe. I check pickle nation on Living Foodz for yummy pickles method used by ancestors