This is my third post with the letter C for http://a-to-zchallenge..com and I couldn't figure out what to write for C ? I thought to choose crayons. Crayons are one of the props which I use in my bookstagram to click pictures. This time I fancied them with the book selected poems by Gulzar. I like crayons because they are colorful and represent so many childhood memories for me. During childhood I remember how filthy my hands, dresses and even the walls used to be because I was someone who loved coloring.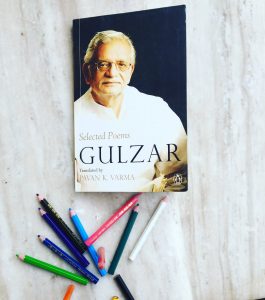 Gulzar and colors –
I used colors for combining them with this book because reading Gulzar always makes me smile. It adds colors to my reading journey. I never get bore of reading his work. My preference is Hindi poems over English ones because Hindi is my mother tongue and also National language of my country. For me reading in Hindi means digesting the whole essence of anything written in it. Gulzar is one of my favorite poet when it comes to Hindi poetry books and I have 5 of his books in my collection out of which I am currently reviewing selected poems.
Publisher – https://penguin.co.in/
Author – Gulzar
Translated by – Pavan K. Varma
Price – 199/-
Poems – 45
Ratings – 5/5
Buy the book here –

The book selected poems is a collection of 45 poems written by the author Gulzar. It is translated into English in the next page by Pavan K. Varma. There are many favorite poems from the collection. I read and then feel like the poem just romanced with me. So I have a hobby to carry these little books with me whenever I travel.
The book is a perfect one to carry during the rains, I feel complete when I read his poems, they drive me to a different world full of emotions, simplicity and grace. Gulzar sir have that magic in his writing that even a simple sentence by him feels like a bouquet of graceful flowers every time one reads it, its fragrance lingers through the atmosphere .
Check the review of Turtles All The Way Down by John Green on blog.