Masala Dosa is a popular south Indian food. It is also my favorite dish and I make my dosa at home. The climate is very important to prepare masala dosa batter. If the weather is hot or humid the batter always ferments nicely. During winter season, it takes long hours to ferment the batter.
I seen my mom making dosa from childhood days, so this recipe came to me naturally seeing her for years. It is a recipe which works best for our home. Please follow the proportions nicely.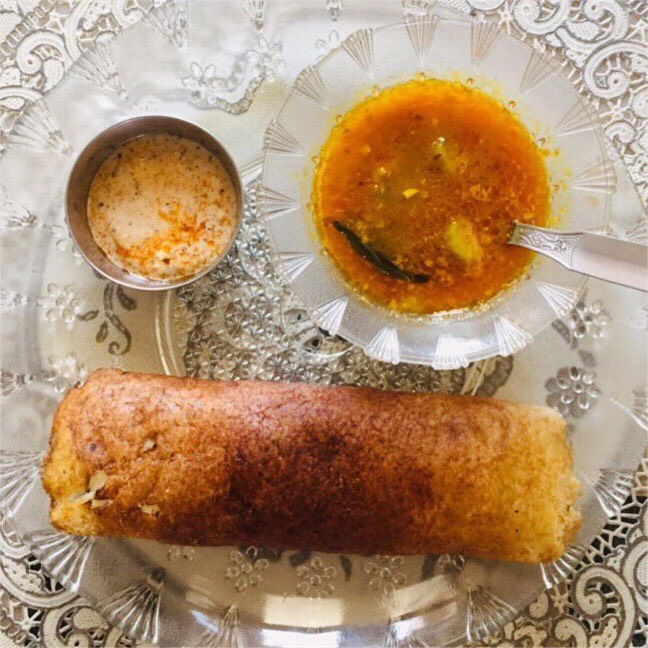 Masala Dosa recipe step by step wise
Ingredients Required –
A. For Dosa Batter
Rice – 3 cups
Urad Daal – 1 cup
Salt – as per taste
Curd – 2 cups
Gram powder ( Besan ) – 1 tbsp
Methi dana seed – 1 tsp
Poha – 1 tsp
B.Masala for stuffing in dosa
Potatoes boiled – 1/2 kg
onions chopped – 2-3 big sized
Ginger garlic paste
Bay leaf ( tez patta )
Mustard seeds
Cumin seeds
Asafoetida ( hing ) – a pinch
kashmiri red chili powder ( it will give nice color )
Turmeric powder – 1 tsp
Channa daal for crunch
Curry patta
Peas
Dried Red chili
C. Ingradients required to make Sambar
Oil
Mustard seeds
Cumin seeds
curry patta
Asafoetida
Dried red chilies
Ginger garlic paste
Onion tomato paste
soaked toor daal
Dried Tamarind soaked in 1 cup water
Salt
Red chili powder
Turmeric powder
Sambar Masala
D. Ingredients requires to make coconut chutney
fresh Coconut
dried red chili
Green chili
Roasted channa Dal
Salt
Mustard seeds
Curry leaves
Curd
Oil
Step by step guide to make Masala Dosa –
Step 1. Soak rice and urad daal in water, a night before you want to make the dosa. It should be soaked for 15-16 hours .
The proportion of rice and urad daal should be 3:1.
Step 2. Strain the water and grind the mixture to a fine paste. Also add besan, methi seeds and poha to the batter. Avoid adding any water as much as possible.
Step3. Mix curd into the batter, add some salt and keep the mixture under sun for some time. By doing this the mixture will be fermented nicely.
Till the mixture gets ready, we can do our Masala on other side.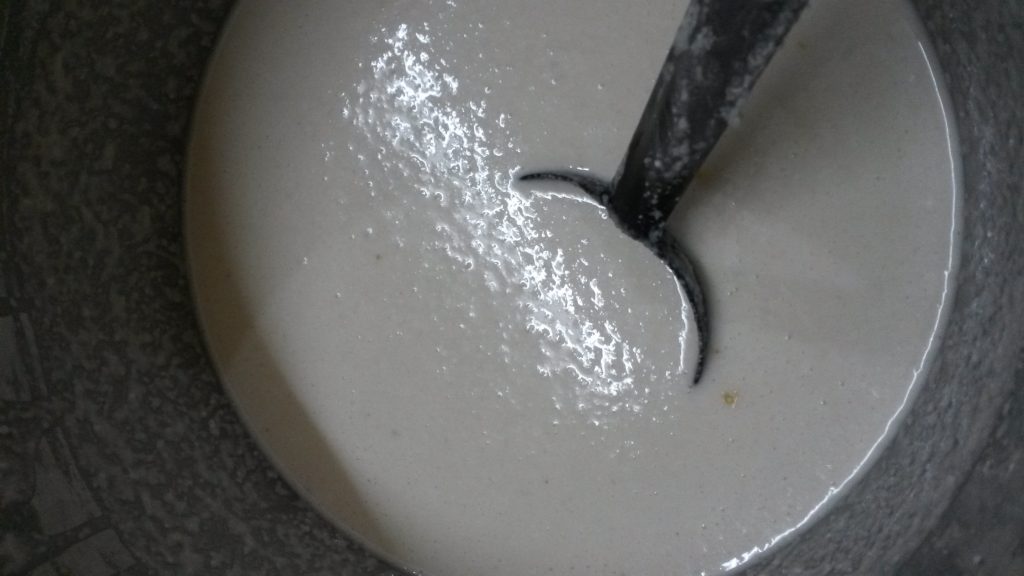 Aloo matar masala for stuffing into dosa
Cut the boiled potatoes in cubes. Chop the onions and make a thick ginger garlic paste ready.
Heat oil in a pan, add mustard seeds, cumin seeds, red chill, asafoetida, bay leaf, ginger – garlic and roasted channa daal to the mixture. Roast some cashews in it.
Now add peas, and onions and wait till it gets a golden brown color, then add potatoes, a tea-spoon red chili powder, and a teaspoon of turmeric powder. Mix everything and the Masala is Ready.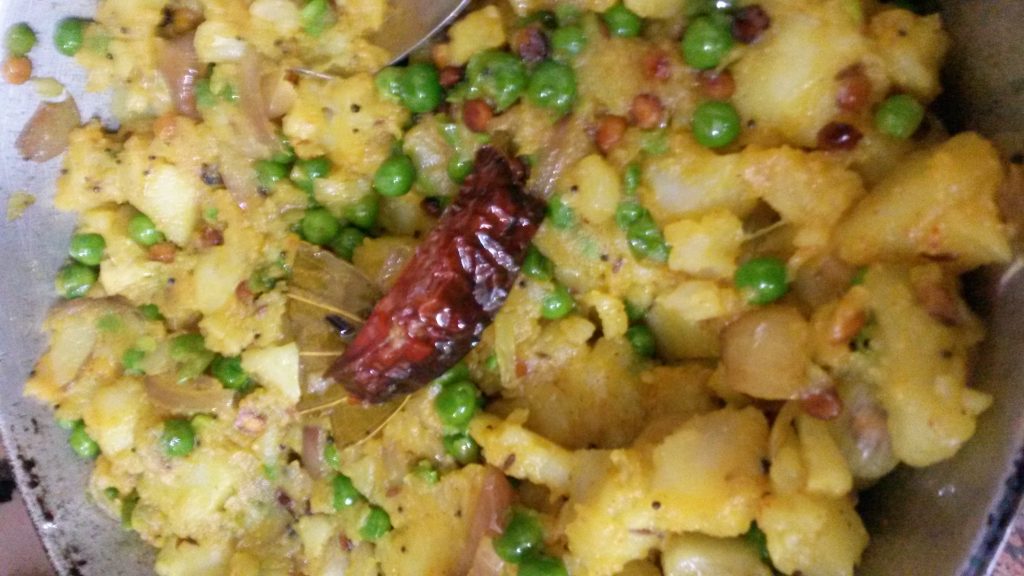 How to prepare crisp dosas on Tawa ?
Take a muslin cotton cloth, soak in cold water and clean the Tawa. We have to do this step for every new dosa we prepare.
Take a spoonful of batter and spread lightly across the whole tawa.
cook it for a minute, turn around and cook and add masala and roll it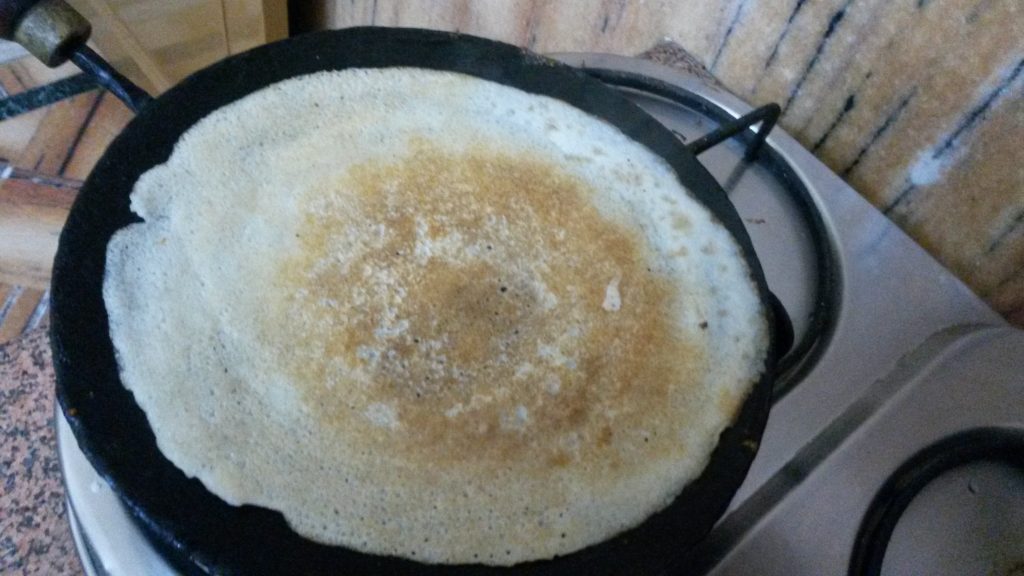 Sambar recipe for dosa
Cook daal in a pressure cooker adding salt and turmeric powder.
Heat oil in a pan, add mustard seeds, cumin seeds, hing powder,dried red chili, some curry leaves, red chili powder.
Add onions puree into it. cook it for 5 minutes
add tomatoes puree and other vegetables as required, cook for 15-20 minutes till the oil starts separating from the base. Then add sambar masala and cook for another 5 minutes
Then add the cooked daal into Tadka.
Cook it till it gets a nice texture then put on tamarind puree to it and keep stirring it till it gets a boil.
Coconut Chutney recipe –
Step 1 – Take some fresh coconut, some roasted channa daal, curd, a few drops of oil, and a green chili. Grind it all to a fine paste .
Add salt as required.
For tadka, Take oil in a spoon, add mustard seeds and a dried red chili, some curry patta and pour it on to the chutney.
You can also check my Rajasthani instant pickle recipe here