‍Chilli Pickle Recipe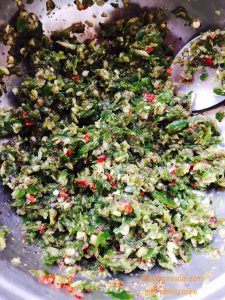 Ingredients Required to make chilli pickle – 
Green chilies – 250 grams
Red chilies  – 2-3 for color
Garlic Cloves – 20 in number
1 lemon
Mustard powder
Salt to taste
Oil for drizzle and keeping the pickle fresh
Method of preparation chilli pickle –
Wash all the chilies and then dry them with a cotton cloth and leave them under sunlight for 10 minutes.
Chop the top of chilies and then grind them with the help of a chopper, just crush them, don't make it to a paste. And if you don't have a chopper either buy it from the picture shared below or wear a glove in hand and start chopping the chilies finely with the help of a knife.
Crush the garlic too after peeling its skin.
Mix the chilies and garlic together and then add mustard powder, salt, lemon juice. Drizzle a tea-spoon of oil from top and then mix it all well again. The chili pickle is ready to be eat. Store it in fridge and it is good to stay for 15 days.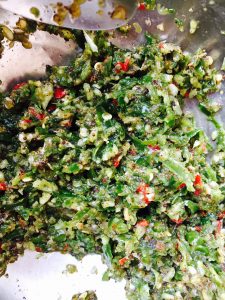 I love this pickle, and mostly have it with my breakfast chapati, as there is garlic in it – it keeps my cholesterol on track  and fresh green chillies again are good for appetite and tastes awesome too. I hope everyone try this easy recipe and share your reviews with me. More recipes will be up soon . You can also check other Quick and easy to make veg chilli pickle.