The Lion King will rule jungle proves Mufusa and Simba
Watching movies is always fun. I always loves watching them in hall, this time instead of watching a story line action packed movie I opted for watching a children themed movie, The Lion King. The voice of superstar Sharukh Khan and his son created the buzz around social media for it but I chosen to watch it because I love children Fiction. It refreshes my mind and is also some different from the regular releases.
The Lion king is obviously a one time watch movie for me. I loved the shooting locations in the movie. Animals and jungle were nicely filmed. Many places it felt like I am watching a copy of the Jungle book. Simba and Mufusa the characters were so strong. I absolutely felt the beginning as very cute and full of motherly love. The movie taught me that a kid is the greatest blessings of all.
About the movie
Kids must watch this movie as they will love the graphics, songs and animals in the movie. Simba as a kid was too cute that he occupied my heart with the cuteness. Hakuna Matata song scene will make one laugh and teach to ignore and move on with problems in life. Also the later part of the movie teaches that we can ignore our problems for sometime but we can't run away from them if we want power to sustain in our own hands in the long run. I like the aggression of lions and also the style in which the monkey realizes the survival of SZimba.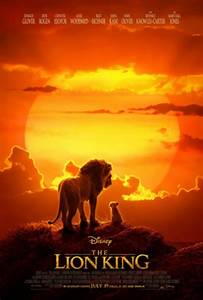 Lessons from The Lion King
Simba and Mufasa acted as the best father son duo and taught to keep looking at the stars for ever when in need. A real king is not the one owns a lot but one who loves to give more and more to his rulers.
Watch The lion King movie here. Also check my review of Raazi movie , it is patriotic movie and kids will enjoy it too.