Back to blogging after watching Raazi movie –
Hello friends, How are you doing all ? I am doing fine and have read all the feedback and mails you people sent me. Last few days I took a long break from blogging. It must be three or four months with a single post in between for an event. Generally I don't take this long breaks but this time was very much occupied in family. There were books to read in free time and due to excessive time to blogging earlier, I started kind of running away from my blog. Now Hill Station girl is back and there is something special which brought me back. It is Raazi movie, such a heart touching patriotic movie. I couldn't stop myself from writing about the movie so that you people go and watch it immediately if not watched yet.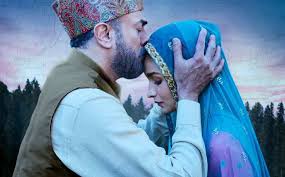 Raazi is a movie where Sehmat's one yes saves life of many Indians –
Raazi the word means "Agree". Raazi movie is based on story of Sehmat a brave woman whose acts of bravery makes us all proud of her. I cried looking at the sacrifices she does for the watan and I am thankful to her that she shared her story with us all, it will inspire many of us. Recently I got to know that the movie is based on a book Calling Sehmat, written by Harinder Sikka published by Penguin India.
You can buy the copy from here –
More about Raazi the  movie-
Alia Bhatt is obviously the highlight of the movie, her acting in the movie and then the Songs Ae Watan and Dilbarro were just spectacular. Song Ae Watan gave me goosebumps. She looked brave throughout the movie with The patiala outfits she wore, and the confidence and love for nation that she carried in her heart throughout the movie was marvelous. It all showed up to us in her acting. I felt that no she was not acting, it was the real love for the country that her role in the movie came out flawlessly.
I felt the maturity in the acting of Alia Bhatt in the movie, after all everyone is matured when it comes to contribute something for the country. The end of the movie with Sehmat (Alia Bhatt) sitting on a chair near the window wearing a white dress and slow winds blowing was just very powerful scene. It showed up the peace after the big war, How a girl who was afraid of taking an injection ended up holding gun in her hand for the country, to fulfill the promises of her grandfather and father who sacrificed their life for the country.
There is  no love like that the love of a person with his country, I am not putting up my review as a spoiler one but must believe me and go and watch the amazing movie. I am sure you will enjoy the movie and while coming out you will be humming…
Ae Watan, Mere Watan…..Aabad rahe tu…
Thank You sir, We the youngsters of India need to know such epic stories, these are like the ocean of inspiration to us. I wasn't aware of Sehmat yet but now it fills my heart with pride whenever I hear her name. Love for Sehmat and all other Army People who helps us smiling in the lapse of our country, contributing their whole lives in our safety. Thank you Harinder Sir for writing the book, Meghna Gulzar for creating the movie, Thank You, Alia Bhatt for bringing the movie to us so nicely that we felt like Sehmat telling us her own story.