Book – Kaalkoot , The lost Himalayan Secret
Author – S. Venkatesh
Genre – Fiction
Publishers – TreeShade Books
My ratings – 2.5/5
About the book – Kaalkoot
Book Kaalkoot , The lost Himalayan secret by the author S. Venkatesh is a thriller story based on the life of Manohar during the times of Indian freedom struggle. The story happens among the mountains of Uttrakhand so it is close to nature with lovely descriptions. I liked the central idea of the book and the explorations of those scary caves of Himalaya through the pages of the book. Whenever a book has in the mountains, flowers and greenery it becomes my favorite. The book also made me sad at times and this mystery was an eye opener, it was the major suspense of the story.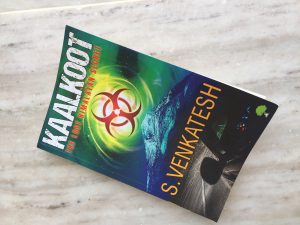 The book painful story line about the people facing the effects of war reminded of a quote by author Ruskin Bond –
" And when all the wars are over, the butterfly will still be beautiful" 
I wasn't happy with the fact that the language wasn't reader friendly, I felt too many tough words destroyed the rhythm of reading the story for me. However mysteries were on point and it is surely a one time read book for me. You can also check my review of The forest of enchantments here.
About the author –
The author is an all rounder man with his major interest in investment sector. The man loves discovering new things in life enjoying his cup of tea with Madhusala playing around. Being close to nature made him a writer.
You can connect to the author here – http://www.svenkatesh.in
Disclaimer – It is an honest review written without the influence of anyone after reading the book. I completed reading the book in almost 15 days and when I finished it up it was an Eureka moment for me. If you are a reader too , do follow us on social media handles and goodreads, write the handles in the comment section below.
"I got the book as a part of the review program in Outset" https://rakhijayashankar.blogspot.in