My experience of shopping with Voylla – 
I love to shop and flaunt different accessories with my traditional outfits. Caring about comfort and details in my accessories is my habit . I am not the type of person who will wear heels while carrying a Saree because It will make me look more glamorous similarly I am cornered about which jewelries to be teamed up with which outfits and also at the same time keeping a check that it does not harm my skin. One day while browsing through my Facebook profile I saw an advertisement by Voylla featuring its allergy free jewelry, it grabbed my attention. I visited Voylla their website and checked out their collection.
Makeup and jewelry both must be allergy free and comfortable. 
Voylla have a beautiful profile, the jhumkas are my first crush. So I started to browse their collection. The brand have smartly managed their website, the clicks of the jewels were clearly visible with a description of each one of them. Their website was easy to handle, nicely categorized and have a wide range of collection.
Quick and safe delivery
Recently I ordered myself two earrings on that day itself. the earrings reached to me within two days. Their service was too quick. It arrived to me with a cute and safety packaging. I wore the earrings on different occasions. There were many  compliments that I received also it was comfortable for me to wear, it didn't react on my skin and most importantly was exactly as shown in the picture on their website.
Here are the pictures that I clicked of the earrings that I ordered. One of the picture on my Instagram handle was also reposted by them – So if you like the picture, go and get it for yourself also browse the site on my recommendation if anytime you want such jewelry –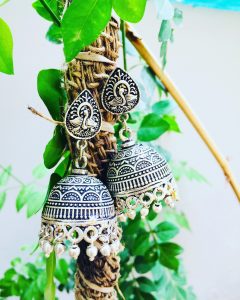 Disclaimer -No,  It is not an sponsored post by Voylla or anyone else. It is written to make fashion peeps aware about such ethnic brands which are actually putting their efforts in making us look and feel beautiful. My message for the brand is to Keep up the good work. 
Feel free to check how sharing the load helps to multiply love ?