Everything in this room is eatable, even I am eatable …

The Charlie and The Chocolate Factory
This quote from The Charlie and The Chocolate factory feels like a dream come true for every child. A room where everything is chocolate is kid's paradise. Roald Dahl, the famous children fiction author gave wings to my eating chocolate obsession through his charlie and chocolate factory. Who ever is a chocolate lover, I highly recommend reading this book. It is a mind boggling book. It will make you laugh, scare you and leave you in awe with the imagination of the children author. There is also a movie on the same so you can watch it too.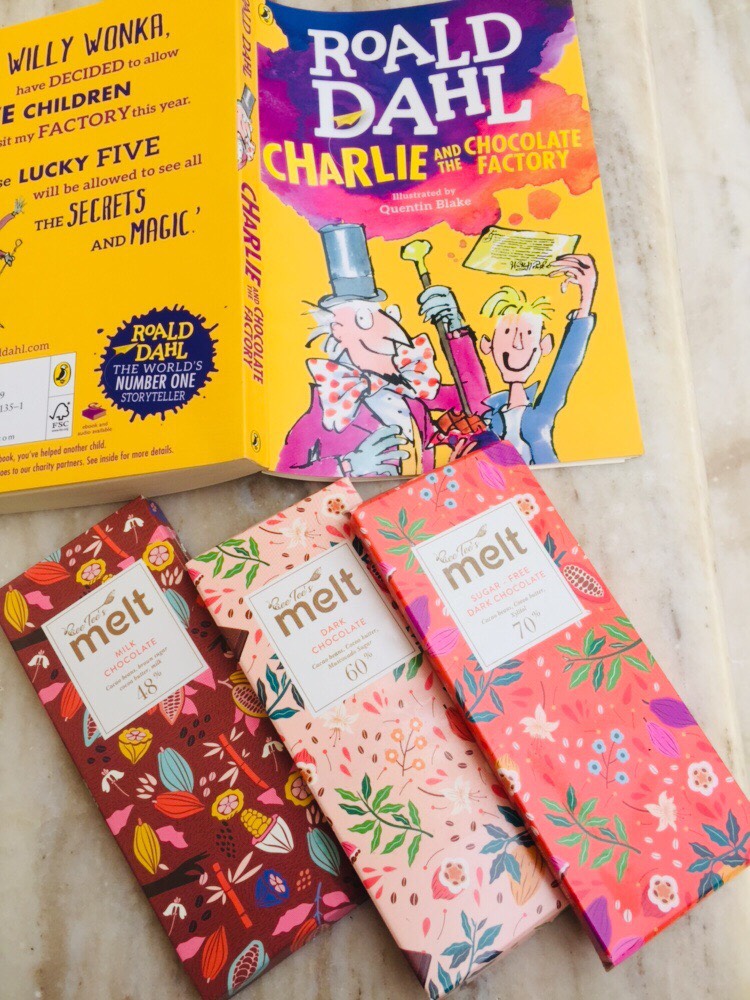 chocolate is a plant product
Chocolate comes from a tree. The tree is called cacao tree. The seeds collected from the fruit of this tree are collected, dried, roasted, mixed with sugar and converted into eatable chocolates. So next time when anyone says eating chocolate is not good for your health, tell them that it is a plant product and is healthy for consumption if eaten in the right way. Recently I tried Beetee's melt chocolate by the brand and I am using them in various kind of recipes. You can also check dark chocolate and sugar free chocolates for the healthy shift.
BeeTee's melt chocolate comes in quality foil packaging with ice bag inside a cute box. They reach well in time so that the chocolate doesn't melt.These chocolates tastes so delicious as they are made directly from beans into bar. They are GMP quality, fssai approved and ISI certified. We can buy chocolates as well as nut butter from their website. 
Here is what I got from the brand –
3 chocolate bars in a cute tin box. The chocolates were packed with an ice bad and foil packaging. I am someone who loves healthy and quality products over quantity and the brand won my heart with this gesture.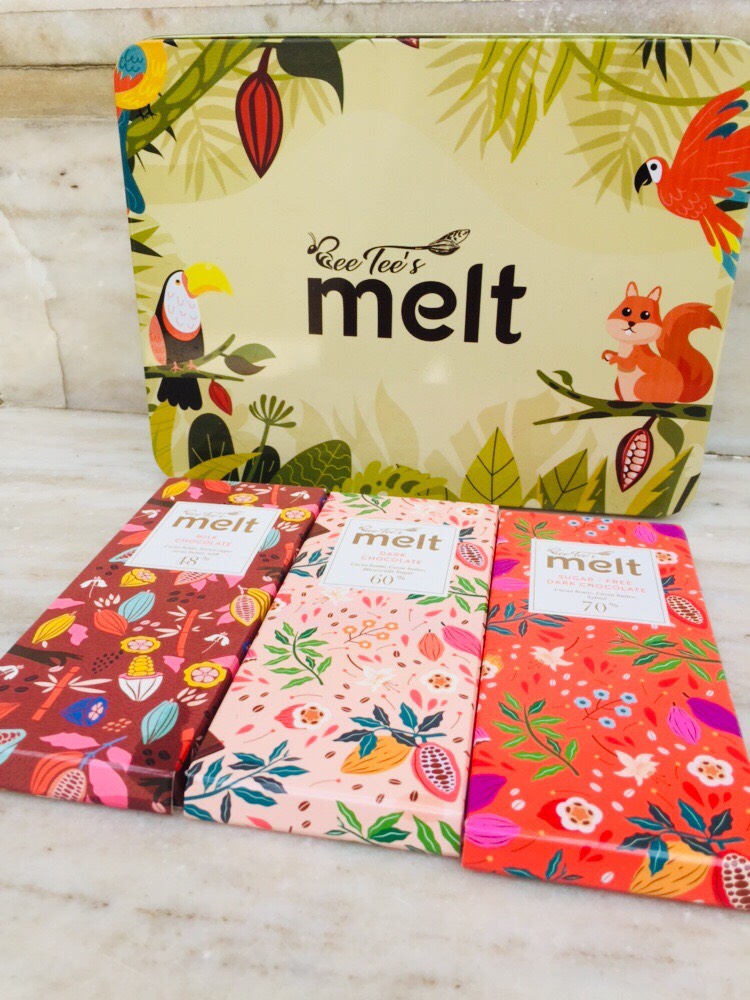 5 reasons that says eating chocolate is healthy
Mood uplifting – Whenever I am low, a Chocolate makes me happy instantly. It lifts my mood and make me feel good instantly. 
Reduces stress. Also they are perfect gifting option with books. It will impress the receiver for sure with your choice in premium chocolates.
Chocolate with high quantity of cocoa helps in maintaining heart health by providing strength to it and reducing risk of heart diseases .
Chocolates helps in improving memory power by providing strength to the brain.
 It also reduces inflammation if any from the body and boast immune system as they are rich in antioxidants. 
5 reasons that says eating chocolate is unhealthy
Eating anything in excess is bad for health. So similarly eating lots of Chocolate is not health for consumption.
Chocolate beans are mixed with lots of sugar to reduce the bitter taste. That sugar harms more to the body. Many of us are unaware of this that raw chocolate is bitter and is readied after mixing lots of sugar into it. Also that large population prefer to eat sweet chocolate instead of dark chocolate or sugar free combination. But with beetee's, it is easy to check out the other varieties.
 Chocolate and sugar together when eaten regularly harms the teeth.
 The chocolate bars are an addiction. once you eat it in hot chocolate milk or spreads on sandwiches you won't be able to resist for long.
if you eat a lot of chocolate, you will gain weight,
Disclaimer – I have tried Beetee's melt chocolate personally and written the review here. The review is done on a barter basis but it is completely free of plagiarism and is unbiased. So if you are someone who loves to taste original cocoa taste into your chocolates, definitely try the brand nut butter spreads and bars. These are perfect indulgence to try. They melt in mouth so silky and smoothly.