Baati is a traditional Indian bread that is typically cooked in a tandoor or a clay oven. It is the state food of Rajasthan. To enjoy the best flavour of baati always cook it in a clay oven. Now a days due to fast moving live due to shortage of time, we have to opt for using microwave to get it cooked easily. However, one can achieve a golden brown baati with a convection oven as well. Here's a step-by-step guide to help you cook perfect golden brown baati in convection mode –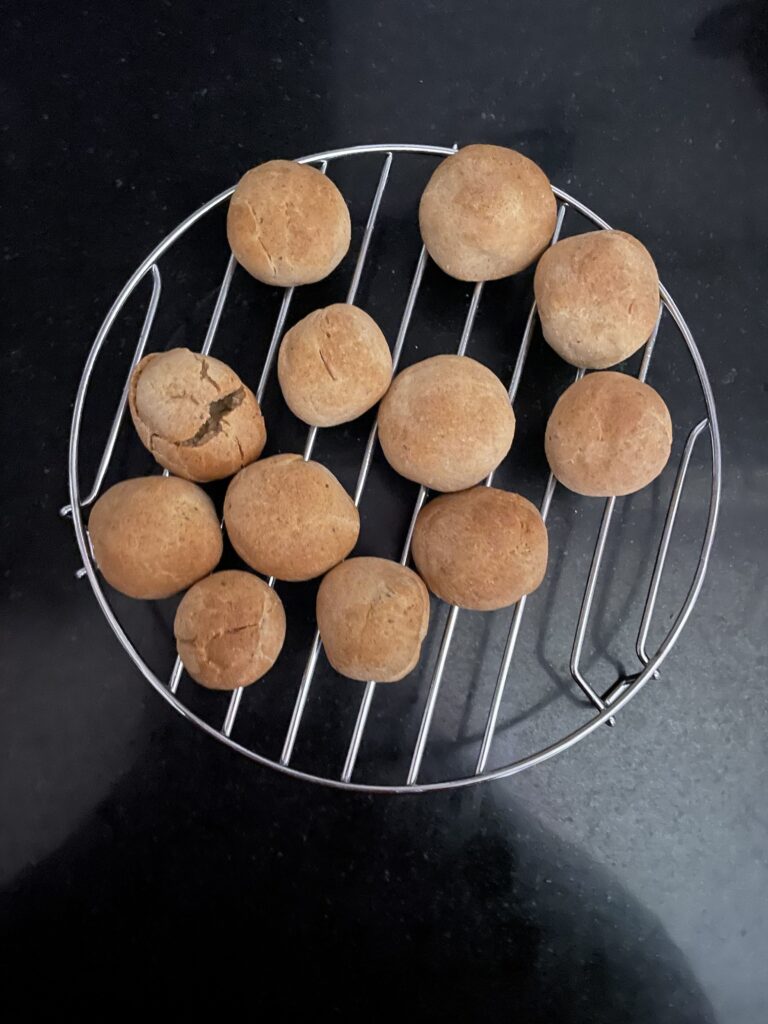 Ingredients:
2 cups whole wheat flour (atta)
1/2 cup semolina (sooji)
1/2 cup ghee (clarified butter) or melted butter
1/4 teaspoon ajwain
1 teaspoon baking powder
1/2 teaspoon salt
warm water (as needed)
Instructions:
Preheat the convection oven: Set your convection oven to 350°F (175°C) and preheat it. Make sure the convection fan is turned on for even cooking.
Prepare the baati dough: In a large mixing bowl, combine the whole wheat flour, semolina, baking powder, ajwain and salt. Mix well. Gradually add the ghee (or melted butter) and rub it into the flour mixture until it resembles coarse crumbs. Slowly add warm water and knead the mixture into a firm but pliable dough. Cover the dough with a damp cloth and let it rest for about 10-15 minutes.
Shape the baatis: After the resting time, divide the dough into equal-sized balls, roughly the size of golf balls. Roll each ball between your palms to smoothen them, then flatten them slightly to form discs.
Pre-cook the baati in convection: Heat a traditional tandoor or an oven-safe grilling lower rack in your convection oven. Once it's hot, place the baatis on the lower rack or tandoor and cook for about 15 minutes. The baatis will puff up with the initial cooking and get partially cooked.
Finishing the cooking process: After pre-cooking, remove the baatis from the oven and let them cool slightly. Now, preheat the convection oven to 400°F (200°C).
Bake the baatis: Place the pre-cooked baatis on a baking sheet or directly on the oven rack. Bake them in the preheated convection oven for 15-20 minutes or until they turn golden brown. Turn them once or twice during baking to ensure even browning.
Remove the baatis from the oven once they are cooked. Add ghee to them. While they are still hot, brush the tops with some ghee to enhance their flavor.
Serve hot: Baati is traditionally served with dal (lentil soup) and a generous dollop of ghee. Enjoy your perfectly golden brown and delicious baatis .
Remember that cooking times may vary depending on your convection oven, so keep an eye on the baatis to prevent them from overcooking or burning. With practice, you'll be able to master the art of making golden brown baati in convection oven. https://www.instagram.com/reel/COhcM-0J2cH/?igshid=MzRlODBiNWFlZA==
You can also check the recipe of https://hillstationreader.com/healthy-and-easy-way-to-make-haldi-ki-sabzi/