Recently I watched a show on Living Foodz where I saw Chef Pankaj Bhadoria sharing some tips to select fresh Vegetables while buying them from the super market.I found it very useful so I am sharing those tips along with a few of my ideas to keep in mind while buying vegetables from market. Also don't forget to wash your vegetables before eating them.Washing is very important step so that we don't eat the chemicals that comes along with the greens.
tips and tricks to buy vegetables fresh –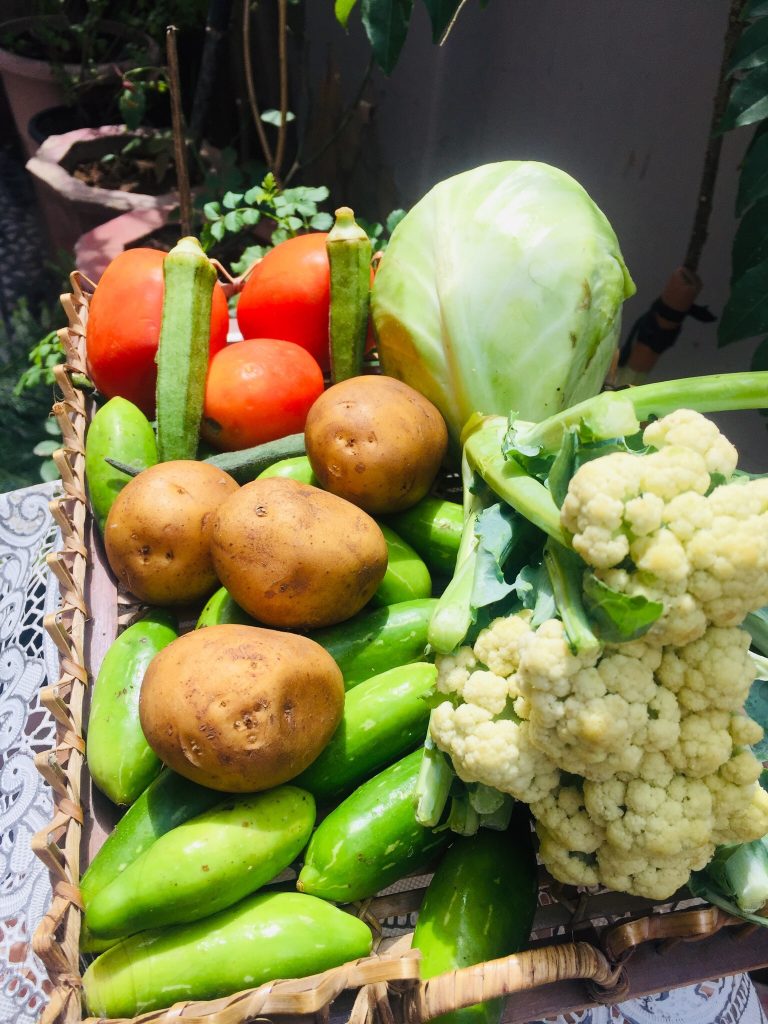 Lady Finger – Try to cut the end of the lady finger with thumb and index finger and if it gets broken means the lady finger is fresh and if it doesn't break or stick by side means the lady finger isn't good to buy.
Potatoes – While buying potatoes make sure the potatoes are fresh, without any sprouts grown over it.  
Cabbage – lift cabbage in hands and buy the ones which are lighter in lifting. The lighter cabbage are more leafy and less stem.  
Cauliflower – While purchasing cauliflower buy those which are tight and closed in florets.They should be light in weight so that it contains more florets and less stems.  
Onions – Press the onions from the other side, and if It get pressed with finger inside means the onions are dull. Do not buy such onions, buy the ones with tight pores so that they stay strong.  
Arbi or Taro roots – Buy those taro roots which are round and thick. The thin ones aren't the good ones and don't cook easily.
Tomatoes – Always buy tomatoes which are tight so that they stay fresh for long time. And if you want to buy tomatoes for making chutney,gravy and sauce then buy the red color pulpy tomatoes. It will give good thickness and a nice color to our recipes.
Peas – While buying always keep in mind to buy peas that have a nice green color on skin, it will ensure that our peas are sweet in taste and freshly plucked. Those which turns light are often not sweet in taste.
Bitter Gourd ( Karela ) – Always buy those bitter guards that are dark green in color, There shouldn't be any holes on it. It will ensure that we get seedless bitter gourd without any insects in it.
Cucumber – Always buy desi cucumber than the other hybrid one. They hold more nutrition and are of very good value to keep us hydrated. Buy cucumber which are tight and green in color. The soggy ones are old and rotten so avoid them.
Also want to try a different vegetable, then check my recipe of aloe vera sabzi and share your feedback about it .
​