Aloe Vera also known as Gwarpatha in Hindi, is from succulent family that requires medium sunlight and frequent watering. Water it only when the top layer of soil dries up. The plant has minimal or no care routine. While watering it, keep in mind that you don't water on the leaves but directly on soil. The plant may rot by continuous contact with water. It is a medicinal plant with so many health benefits. We must consume it raw or as aloe vera sabzi to get strong bones, glowing skin and shining hair .
Health benefits of Aloe Vera –
I call this plant as a magic plant because of numerous health benefits it has got. The gel from the leaf is used as a drink empty stomach to loose weight, boasting immunity, getting rid of pimples, to heal sun burn or sun tanning. It also relieve burn pain.
Using aloe gel regularly on face acts as a toner to face skin, takes away all the dark spots and leaves soft, supple and shining face skin. It is used as a body polishing agent and cures skin diseases. 
Eating aloe vera sabzi makes the bones stronger and removes stretch marks from body.
Aloe Vera pack on hair helps to act as a preventive step against itchy scalp health and cures issues of dandruff, it makes the hair look shiny and bouncy 
Aloe vera gel acts a natural primer before doing any sort of makeup on skin.
It can be used as an eyelash curler and eyebrows highlighter 
Many times we face sore fingers or thumb due to cuticle break, heating aloe gel and tying it on affected area helps to relieve in pain and taking away mucus. 
aloe vera sabzi yah gwarpatha ki achari sabzi ki recipe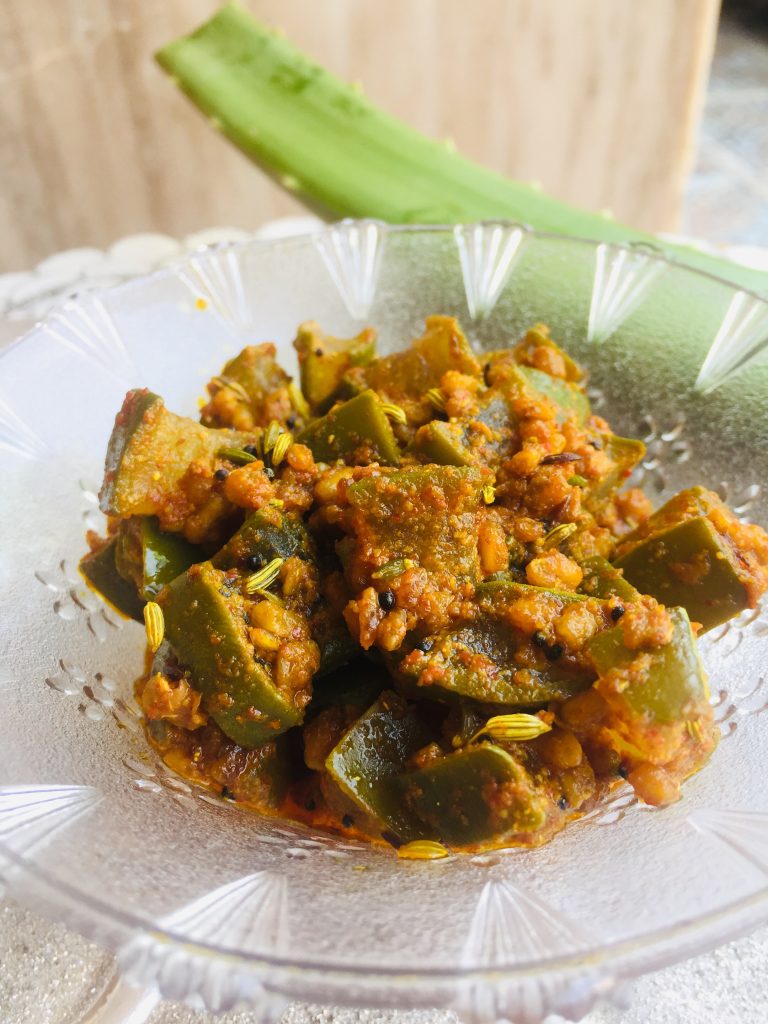 Cut a fresh leaf and keep it stand straight for an hour. The yellow pulp will come out, it can be toxic for human consumption so we will discard it.
Meanwhile also soak some methi (fenugrek ) seeds for 10 minutes and then boil the methi seeds for 15 minutes and strain it in a strainer to escape whole the excess water.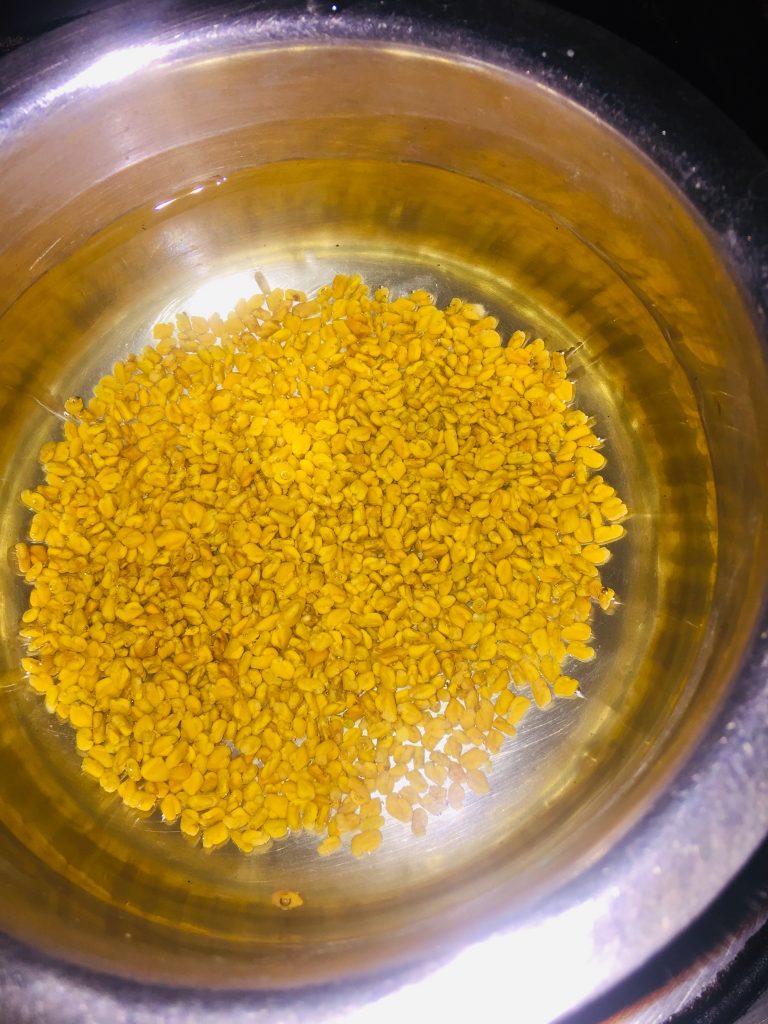 Later wash thoroughly the leaf and cut it into tiny pieces. Boil it for 10-15 minutes adding a pinch of turmeric and some salt.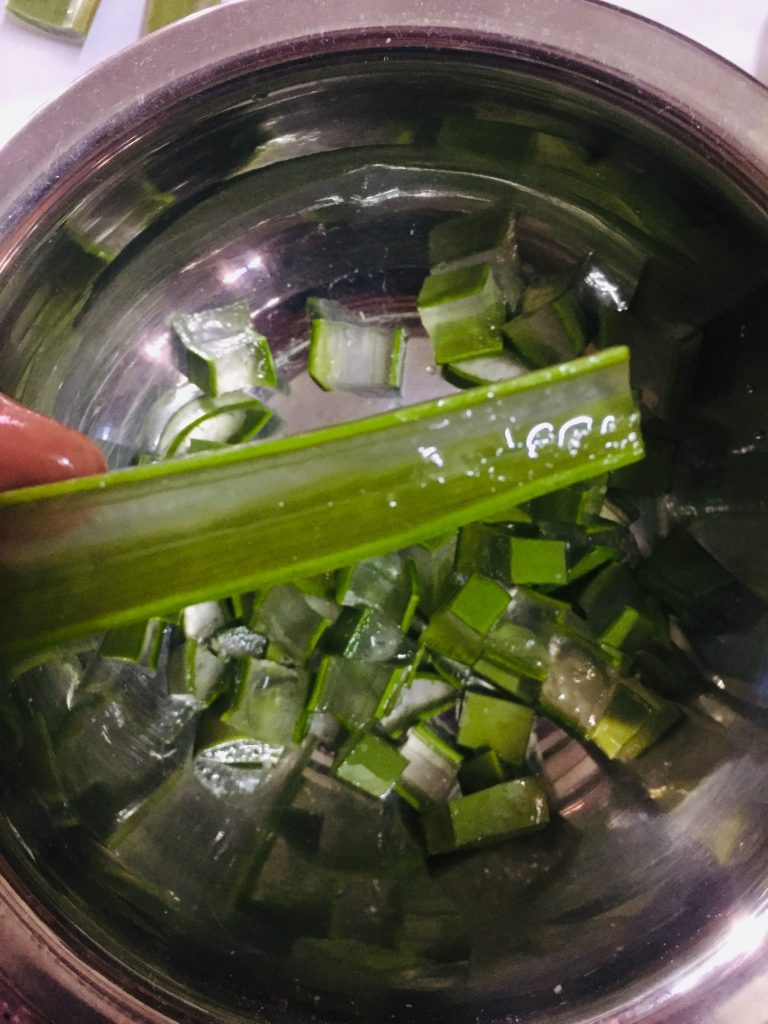 Strain the tiny aloe cubes and let it sit for 10 minutes so that most water escapes through strainer.
On other side, heat oil in a pan, add mustard seeds, jeera (cumin) seeds and hing. Let them splutter.
Then we will add our boiled aloe vera and methi seeds to it by squeezing all the excess water out pressing with our hands. 
After 5 minutes we will add turmeric powder, chili powder, coriander powder salt, amchur powder, and some fennel seeds to it.
Let it cook for 5-7 minutes so that it soaks all the masala inside it nicely.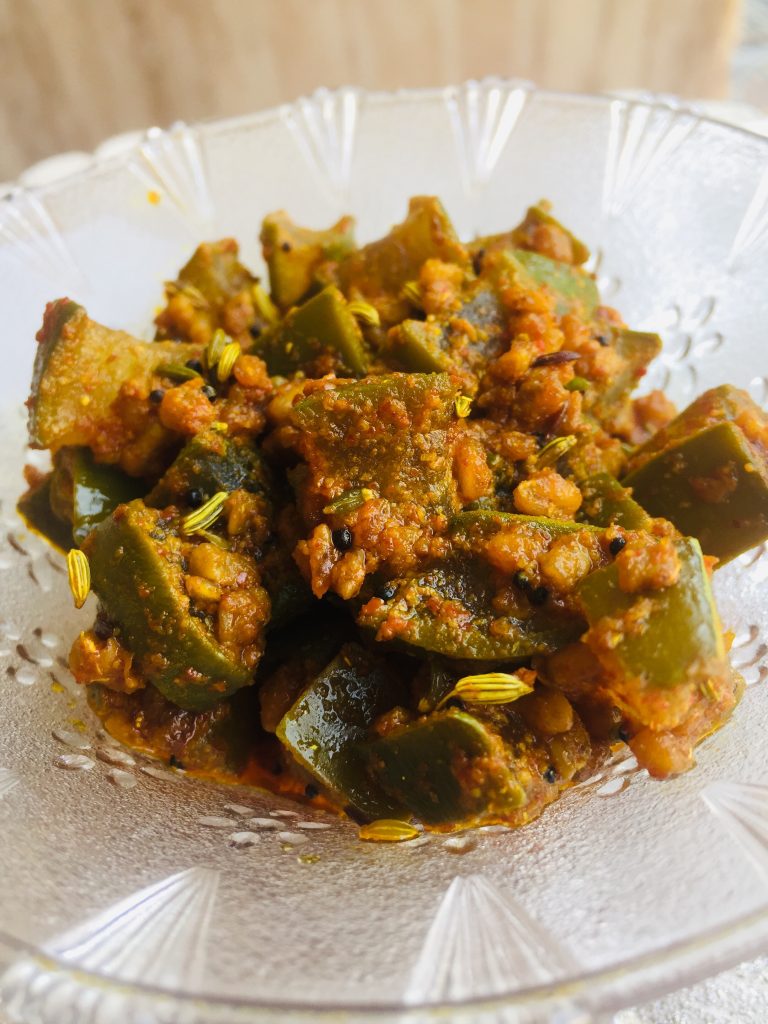 aloe vera sabzi aka Gwarpatha ki achari sabzi is ready, Enjoy it with hot chapati . It is very good for bone health and muscles density if eaten at regular intervals. If you like my recipe blog please do visit Hill Station Reader recipes
I am also linking this nutritious recipe to #Local4Poshan for Poshan Maah Nutrition campaign