A balanced diet is a must to fulfill the requirement of basic nutrients in our life. Spinach is rich in iron and as paneer is made up of milk it is super protein rich and very good for health. As a child I never liked eating spinach as a vegetable, I didn't like the boring look of the vegetable but whenever I saw palak paneer made by mummy, I was happy and ate it without any drama. So I decided why not to cook it as a healthy food ingredient and include in our food chart.
healthy and easy to make palak paneer Recipe –
Ingredients –
Spinach (palak) – 500 grams
Tomatoes -2
2 large onions
Garlic cloves – 5 in number
Ginger paste
Jeera powder
Salt to taste
Red chilli powder
Turmeric powder
Desi ghee – 100 grams
Cumin seeds
Green chilli
Dried crushed methi
Recipe –

Take a bowl, add boiling water to it. When it starts boiling blanch the spinach.
In another bowl add tomatoes, one green chilli and onions. when it is boiled, strain it and cool it. Boil till the tomatoes and onions start leaving its skin.
Cool down the vegetables and then puree the boiled vegetables. Puree them separately.
Add ghee in a pan, add cumin seeds.
Now add ginger garlic paste and then add the palak purée into the kadai.
In another pan cook tomato onion puree.
Next we will add one cup of water and let the palak get cooked till it leaves ghee by its side. Then we will add tomato onion puree to it.
Start adding turmeric powder, red chilli powder, add salt, one tea-spoon jeera powder.
Cook the gravy for 5 minutes.
At last stage we will add 1 tsp cream and 1 tsp butter. And finally crush some methi and add on top.
Cut paneer into little cubes and add them to the gravy. You can also pan fry paneer with some butter on tawa and add it to the gravy.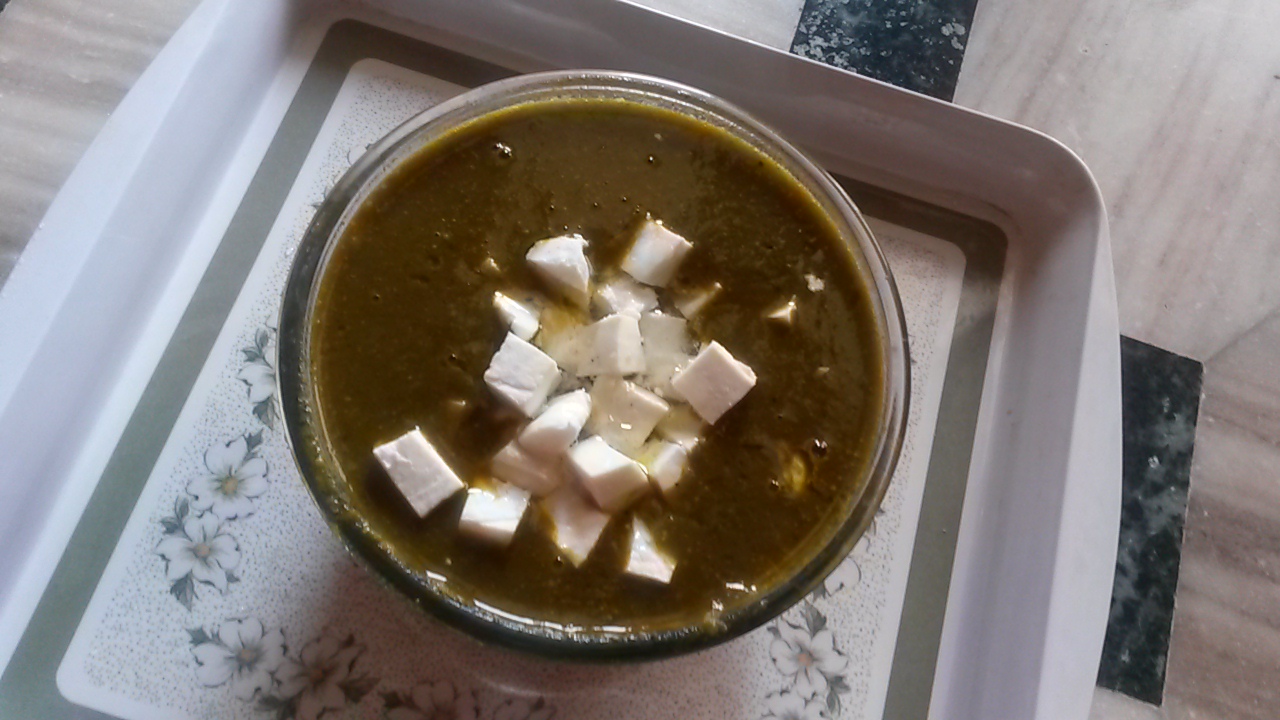 Add some more butter to enjoy the royal taste and our palak paneer is ready. Enjoy it with hot chapati. Also check the delicious recipe of tagliatelle pasta.