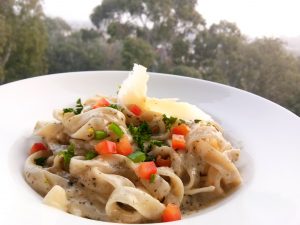 Pasta is my favourite dish, I can have it in the morning,evenings noon or anytime so I keep on trying different pasta recipes and here finally I have my hands on tagliatelle pasta recipe by Chef Rahul Bhatt, tagliatelle pasta is an Italian pasta, it is long in appearance unlike normal pasta and full of cheese means crumbles easily in mouth and tastes heavenly awesome. Here in the post we have  got the vegetarian tagliatelle pasta recipe.
Ingredients Required to make tagliatelle pasta –
24 ounces of dry tagliatelle pasta Buy Tagliatelle pasta here –
1 cup butter
3/4 pint heavy cream
salt and black pepper to taste
1 dash garlic salt
grated Parmesan cheese as required, get the parmesan cheese from here
Method of preparation Tagliatelle pasta

–

Bring a large pot of lightly salted water to a boil. Add pasta and cook for 8 to 10 minutes or until al dente ; then drain the pastas.
In a large saucepan, melt Cream into butter over low heat. Add salt, pepper and garlic salt. Stir in cheese over medium heat until melted; this will thicken the sauce.
Add pasta to sauce. Use enough of the pasta so that all of the sauce is used  and the pasta is thoroughly coated. Serve immediately.
Garnish with green beans or carrorts and chillies and enjoy before the creaminess  is lost or gets dried.

Tada, like the recipe do give it a try, share with me in the reviews in the comments and post the pictures too on social media.
Recipe and picture credit Chef Rahul Bhatt –
About – Rahul Bhatt is a young chef from Uttrakhand. He worked with many of the Celebrity chef, Indian legend chefs as well as also worked with masterchef Sarah Todd and He is a member of
World Chef Socities and Indian Culinary Forum
Follow the Chef and get his recipes by here – Instagram , Facebook ,
Twitter , Facebook page Chef Rahul Bhatt