quick and easy veg chilli pickle recipe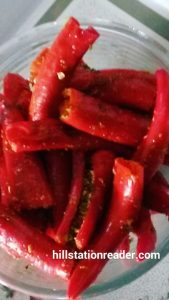 Ingredients –
Fresh Red Chillies – 250 grams

Mustard seeds powder – 100 grams

Salt – as per taste ( I prefer 2 tea-spoon )

Fenugreek. seeds – 2 tea-spoon

Fennel – 1 tea-spoon
6.Jeera Powder – 1 tea-spoon
Oil

Turmeric powder – 1/2 tea-spoon
9.Red chili powder – 1 tea-spoon
Asafoetida – a pinch

Lemon – 1
How to make –
Step 1.
Wash the red chillies under tap water and let them dry under sun light for an hour, if there is no sunlight in your surrounding dry them with a muslin cloth, don't leave any moisture inside them.
Step 2.
Remove the top of the chillies, and with a knife give a cut from beginning to end in all the chillies
Step 3.
Mix mustard seeds powder, chili powder, turmeric powder, a pinch of asafoetida, fennel seeds, jeera powder and fenugreek seeds.
After mixing add 1 tea-spoon of oil and squeeze one fresh lemon juice into it.
Mix everything again.
Step 4.
Start filling the masala into chilies through the side at which we gave a cut.
After all the chillies are done store them in a glass container, and add 3-4 tea-spoon of oil from above.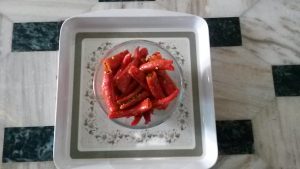 Golden Tips to be kept in mind to store the pickle for long –
Do not serve chilly pickle directly from your hands by this the pickle gets rotten, better to use a spoon .

After taking the pickle don't leave spoon inside the jar, this spoils the color of the pickle

Buy fresh chillies of the autumn only, because pickle made of this season lasts a long even up to 1 year.

During summer the pickle needs to be refrigerated.
Linking this post with Menaka #SIM