Shopping for kids is always fun. The fun gets doubled when the kid is a girl child. I have three pretty nieces; all cute, bubbly and warm. All my fancy dreams of reliving my childhood are now getting full filled buying them toys, dresses, matching hair accessories, purse and what not ? Shopping for kidswear is an addiction and I truly enjoy it .
One step destination to shop for kidswear online
Recently I came across One Friday World, it is an online brand for kids Wander Wear. There is a wide variety of collection for both boys and girls. Their collection is rich in style with vintage designs and yet carrying in them a modern touch. There are frocks, jumpsuit, suits, top wear, winter clothes, hair accessories, mother daughter twin clothes, footwear and many other things. I loved the simple yet elegantly designed dresses and ordered a dress for first birthday party of my niece.
She is a toddler so her mother prefer getting her dolled up in comfortable clothes. So We wanted to gift to her something that meet her comfort and make her steal the show in a unique style. Check the collection of Kidswear online.
About the dress from One Friday World –
I ordered a beautiful off-white jacket pinafore in shades of cream and golden hues. There was a classic ribbon on it . When I took the dress in hands,it felt soft and so comfortable . Also the dress was decorated with quality flowers on the skirt side. I am excited to see her get dressed up in the luxurious outfit. After all our baby girls have got all the time to carry swag from the beginning of life.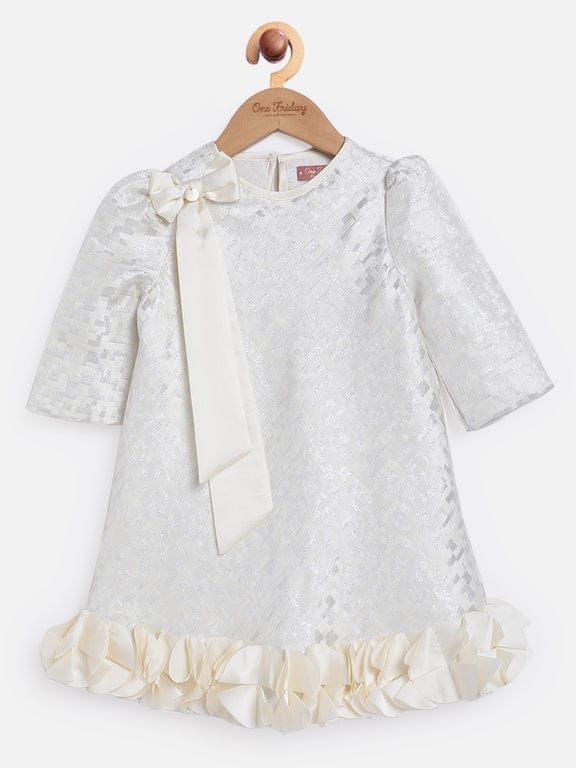 Also I would like to thank the brand for adding the personal note along with it . I am someone who loves receiving my gifts with a personal touch so this was really a warm gesture.
I highly recommend the brand to all the mommies and daddies who are reading this post. Try the kids wear range from One Friday World, because they have something vintage in all their collection. It is high time that every kid deserves a royal pampering every now and then in life. The review is written after trying the product and is unbiased. Also you can my review of Ek by Ekta Kapoor brand.