Good skin adds confidence to life. It makes one feel good inside out. Having a good skin is the dream of everyone. In today's life there is a lot of pollution, our eating habits are changing so skin just does not get the right nutrition it requires. Therefore we have to understand our skin and provide it external care. Recently I came across a brand Suhi & Sego. The brand provides personalised skincare products based on our skin type. Suhi & Sego have vast knowledge based on grandmother recipes for various skin concerns. They say that just tell us your skin and rest we will provide you with the best.
This idea was comforting to me. There are a lot of remedies but which one which will work for my skin is simplified with their innovation. We have to simply login to the website and fill the prescription form. There are categories that goes like skin stuff, life stuff and wellness goals.Based on these three the brand suggests us the cleanser, toner, day cream, night cream, night serum and under eye cream. So basically we get a complete skin care package based on just one form.
Under eye cream by Suhi & Sego
I have used the under eye cream by the brand. It came with my name embed on it. That gesture mad me feel special. I felt like the brand is trying to listen to me actually and provide solution like a mother does. The major ingredients are ginger lily and quinoa seed extract. These both are powerhouse of nutrition. And now I know that the brand actually knows what is essential for which concern and heal our skin naturally.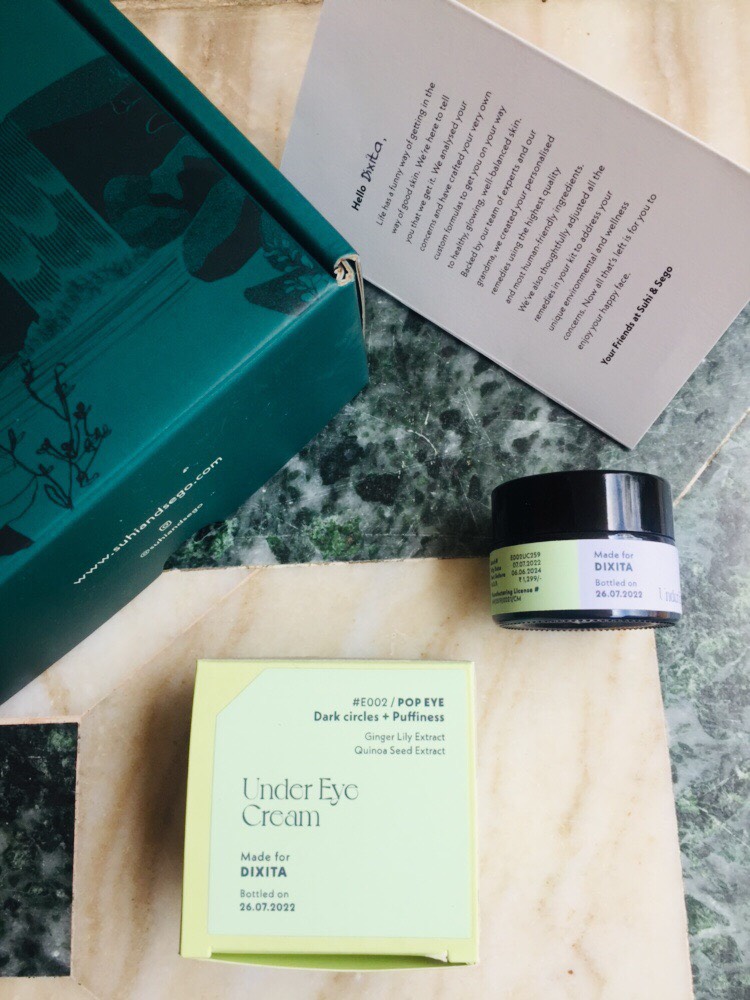 How to apply the under eye cream ?
It is an AM PM routine. We have to take a tiny drop and apply it under the eyelids. If you know face yoga, it is good to go for 2-3 minutes face yoga for under eyes. It has shown positive signs on me. I was overworked a lot and felt my under eyes relax after using it. I am sure to recommend this product to my bride to be friends and other girls who want to take their skin care game to next level but are short of time.
You can also check my review of Is eating chocolate good or bad for health ?