To me home is where garden is . I love gardening from very early age of my childhood and often I say to dad that Dad I will marry only if He has a big garden house, a beautiful coffee shop and a library. Dad laugh when he listen to me and to tease me he say that I will find for you a vegetable vendor who grows vegetable plants and sell them and make his living.
This memories are little bundle of joy to us and believe me having a good garden at home is a bliss. When I wake up in the morning I wake with the thought of seeing new leaves, any roses bloomed today ? or what is mysterious new thing happening in my balcony, are there fresh vegetables to be picked up so that I can prepare a delicious breakfast of the cherry tomatoes ?
I rush to garden, terrace and all those corners of the house where I  keep plants. I quickly inspect and talk with them watering, sometimes sprinkling and removing all the dried, fallen leaves and flowers.
When my garden blooms with new leaves and flowers, beautiful sparrow, parrots and peacocks come to my home and sing me a early morning melody, munching on Bajra grains and chapati pieces I give them to eat, and being  regular with this habit those sparrows and birds became my friend. They stay whole day and sleep at night in the nests they have made on my house backyard Neem tree.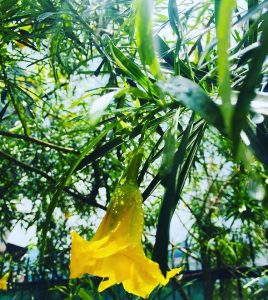 Waking up to this routine gives the perfect start to my day and I don't need any other dose of motivation. Seeing them growing makes me happy, so I always make sure to take care of them.
Here are the ways how I nourish my  Indoor and outdoor plants –
 If you are going on a vacation for a long time then you should keep your flower pots at places where there is less sunlight or you can ask any of your friend or family to come and water them daily but REMEMBER transfer this duty to any one who loves plants, because you don't want your plants to suffer in those vacations.
If there is grass growing on the sides of your plants, remove them immediately, they are WEEDS, the unwanted plant that eats the Nutrition of the main plant.
Everything in excess is dangerous and if you add extra fertilizers to your plant thinking that it will grow faster, you are wrong so don't over do anything.
Pruning is must and keep an eye on the stems and leaves that they haven't caught any worms and pests.
If there are new babies coming out, while growing they will require support because their buds must be weak, so at those time give them proper support of thin wooden sticks.
Clean the green pigment collected at top of plant, it is algae and it stops the growth of greens.
Water during early morning, or during evenings, water twice during summer days. keep your plants hydrated, don't let them dry. Don't water in excess it can damage the roots by spoiling them.
Cover your plant area with a blanket during cool days, the blanket should not be very heavy.
During summer days try to take your indoor plants outside during night or keep them in balcony so that they get fresh air.
Spray method of watering plant is very important and it removes dirt and webs collected on them and keep them fresh.
After following all these steps you will see your plants blooming with healthy and happy flowers. And I read in one of Ruskin Bond sir novel  where a lady watered her plants even during rainy days and on asking her why do you water these plant when rain water already did its work?  She replied – my plants are habitual to me and not the rains. They wait everyday for me at this time so I do my duty.
This words left footprints on my heart. Check my experience of Snake plant leaf propagtion here.
P.S – Talk with your plants, they like listening to you and becomes addicted to you (Personal Experience).

I am taking #MyFriendAlexa with Blogchatter .