Snake plant or commonly known as sansevieria plant is an indoor plant. It is the one of the best air purifying plant as it kills the bacteria from the indoor air and make the place apt for fresh breathing for us. Plant lovers can have this beautiful plant inside their house. It is a low maintenance plant and require watering once a week. It also does very well when it is kept in morning bright sunlight. The plant loves and grows when you neglect it says the old school plant lovers.
Rooting snake plant is easy, we can create get roots in it just with a cutting of the leaf. It roots both in water and sand. I personally prefer water propagation more. Here is the plant leaf which I experimented upon –
My snake plant propagation, took me 40 days to root it.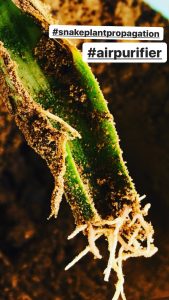 I started it with water propagation and when it started to root I shifted it to sand, the leaf developed fast after shifting it to pot.
Steps that needs to be taken for snake plant propagation through a leaf –
Arrange a healthy snake plant leaf. Cut it into three parts.
Take a glass container and place all the parts into it and fill it with water soaking only 2 inches of the leaf.
Change water once a weak and refill the pot if the water dries up due to heat.
Wait, yes patience is the key while propagating any plant. Don't over water it or it may start rotting and become obsolete.
My leaf started developing roots in 40 days. I just waited for it to grow patiently and then shifted it to pot. I give a banana peel fertilizer once a month and water when the top layer of sand dries up. I like this indoor plant, I am currently keeping it in shade where I get only sunrise 15-20 minute sun-rays and it is doing very well. Try your hands at it and get a free air purifier in no time and share your review with me in the comment section below. No more buying fancy plants online because the rates are not budget friendly and also the joy of self developing it, is beyond any purchase.
Meanwhile feel free to check 5 unique ways to tackle reader's block .