Heat strokes are common during summer

Summer is here, and the temperature reaches up to 47 degree during the month of May-June. I water my plants twice, also fill clay pots with cold water on rooftop for birds and bowls of water for street dogs. Due to hot winds blowing all the time it becomes necessary to stay cool. Loo in the desert places of Rajasthan makes it difficult to go out of home and people get heat strokes more often. To beat the heat in  style I prefer mint lemonade, sugarcane juice, bael sharbat and Bella sharbat. These are natural cooling agents.
Beat summer blues with bael sharbat

I always love to cherish a drink at 10am. This bael sharbat drink is perfect for summers. It is a local fruit obtained from the tree Bael, the leaves of which are offered to Lord Shiva to calm the effect of poison him. This is a naturally sweet and cooling agent which will make us feel cool, end constipation and provide us essential nutrients and fibers.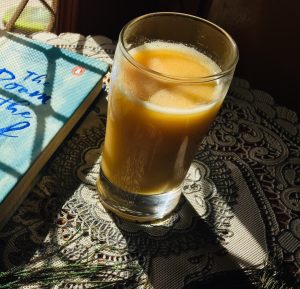 It is known as Wood Apple or Golden Apple in English and bael in Hindi. This summer fruit can easily be found in the local vegetable fruit market during summer.
bael sharbat recipe  – ( wood apple juice recipe )
Ingredients –
 1 wood apple
Cold water
1 cup milk (optional)
sugar (optional)
Ice cubes (optional)
Black salt – as per taste
Jeera powder – 1 teaspoon
Recipe –
 Cut the bael into two pieces, take out the pulp into a container, add chilled water to it and Soak it for 5-6 hours.
Take a strainer, strain the pulp along with the soaked water using your hands . If  you don't have strainer you can also use a cotton cloth.
Add black salt and jeera powder to it. Churn it with a hand grinder.
pour it in the glass and it is ready to drink.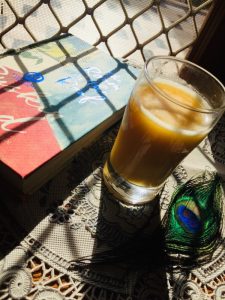 We can also add sugar instead of salt and jeera powder. After all the sugar gets dissolved completely we can add cold milk as per requirement and enjoy the drink chilled with some ice cubes. Adding milk is optional too.
Hope you like the recipe, it is is easy to make, healthy for the body and keep us hydrated during summers. Try the recipe, give this tasty drink to kids and elders, everyone will love it. Add your comments below and I will come soon with such another healthy recipes soon. You can check the lemon tea recipe and give it a try.