With a bug in my throat, this is how I woke up every morning during winters .I love reading books in cold nights, but cold winds didn't like my reading so they gave me a sore throat .To stop that I took medicines or drank warm water whole day . Looking at my sickness, one day my grandmother made me a cup of lemon tea and this worked as miracle to me after that I felt so better and I did not caught cough for a long span . I took her secret tea recipe and I am sharing it here for everyone .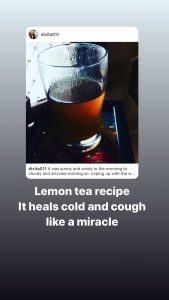 lemon tea that heals old cold and cough
Ingredients –
1.Lemon – 1 in number
2.Salt – A pinch
3.Tulsi leaves – 5 to 6 fresh leaves
4.Ginger – one small piece
5.Black pepper – A pinch
6.Turmeric powder – A pinch
7.Tea leaves -1/4 teaspoon
8.Cinnamon – 1 little piece ( an inch )
9.Sugar – 3 table spoon ( can replace with jaggery or honey )
10.Clove – 1 clove
11.Water – 3 cup
12.Cardamon – 1
13.Carom seeds – 1/4th teaspoon
Serves – Tea for two
Method :
Keep 3 cups of water to boil .
Make a fine paste of ginger and cardamon and add it to boiling water.
Then add a pinch of black pepper .
Add tulsi leaves , three spoon sugar,half clove, a little stick of cinnamon and carom seeds
Now boil the water till it gets up to level of 2 cups .
Then add 1/4th teaspoon of tea leaves .
Bring one quick boil and close the stove .
Take the serving cup, squeeze lemon juice to each cup .
Add pinch of turmeric and pinch of salt to both and pour in cup , the boiling water from lid with tea refining jar .
When you add tea leaves , the water will be frothy.
points to keep in mind while making the perfect cup of lemon tea
Do not boil tea leaves for more than 30 seconds .
Remove the top of clove and then add it to avoid the excess heat .
You can replace sugar with jaggery or honey. Honey will be also added to cup directly.g
Turmeric, salt and lemon must be added directly to cup.
to enjoy the tea in summers, cool it in a refrigerator.