Reading a good book is like curling up on a window seat with an old friend... the comfort is almost instant.  ( Outlook - a Book Of Simple Living By Ruskin Bond )
What is reader's block ?
I am an avid reader, reading books, clicking them for bookstagram and reviewing them on Goodreads makes me happy. Life isn't same all the time. So even though I am a book lover there are times in my life when I don't feel like reading. My last reader's block lasted for two months. After that I finished reading two fat books of around 800 pages within 10 days. So I believe reader's block is not a thing, it is an illusion of mind. Depending on the things happening around in our life. If I am happy in my life no matter however busy I am, I will find time to read. If things aren't going on smoothly than I don't like to read because I cannot digest the story completely.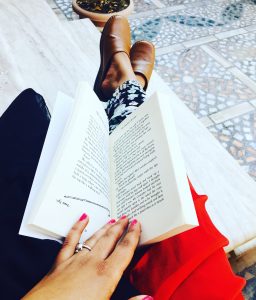 Here are my tips and tricks to deal with reader's block –
Reader's block is like depression. It exists only if we think that it does and it vanishes as soon as we start doing things opposite of it. Even if, I don't want to read, I still pick up a book to read. It involves me into the story after reading a few pages . It ends my reader's block.
Another idea to deal with it is to develop a hobby of reading daily from childhood. Experts says that it takes 21 days to create an habit and around 3 months to create a lifestyle. So I follow this method to develop any habit in me.
Read one author at a time then pick up another author's work for next book . Don't go over reading the same author in continuity. Reading the work of Paulo Coehlo requires great deal of patience and time for me. I read one of his book ( a tough one ). The next book which I pick up will be a light one like a Ruskin Bond story book. It neutralizes the reading in me.
Add books to your shelf only once you finish reading the ones you own. This sounds nothing but benefits a lot. Don't be a book hoarder, Be a Reader. Not Adding books to your shelf when not required will always drive you to discover the unread books first.
Carry books with you whenever you are traveling, reading and traveling are the best possible combination ever. It will keep you occupied and away from from gadgets too.
Disclaimer –
This article is written as a part of #Thebookblogtrain conducted by Vidhya Thakkar and Siddhi Palandepowered by Penguin India and Redwolf should not be repurposed, republished or used otherwise. The content herein is owned by the blogger. Hosts are not responsible for any infringement caused."
Hope your reader's block vanishes by following these tricks permanently. and so you can enjoy back with your reading. Also don't forget to check my review of 13 Reasons Why book .