Touch The Sky by Rashmi Bansal is a must read for all women seeking for some inspiration (Book Review )
Book – Touch The Sky by Rashmi Bansal
Publishers – Westland Books
Genre – Non-Fiction
Type – Short Inspiring Stories ( The Inspiring stories of women from across India who are writing their own destiny )
My Ratings – 5/5
Buy the book here –
In English –
In Hindi –
Recently on World Book Day in a twitter chat #ReadWithFlipkart I got the opportunity to ask questions related to reading by authors Ashwin Sanghi, Preeti Shenoy and Rashmi Bansal,  on topics m"Magical Mystery Reads", "The Romance of Reading", "Reading for Empowerment" in which two of my questions got selected one for Author Ashwin Sanghi and other for Rashmi Bansal. So Flipkart send me the copy of book Touch The Sky autographed by Rashmi Bansal and a voucher too.
Touch the Sky : The Inspiring Stories of Women From Across India Who are Writing their Own Destiny
I loved that she mentioned my name in the autograph and said Dear Dixita, Touch The Sky. It will motivate me whenever I will be in hunt for some positive vibes.
About The Book Touch The Sky –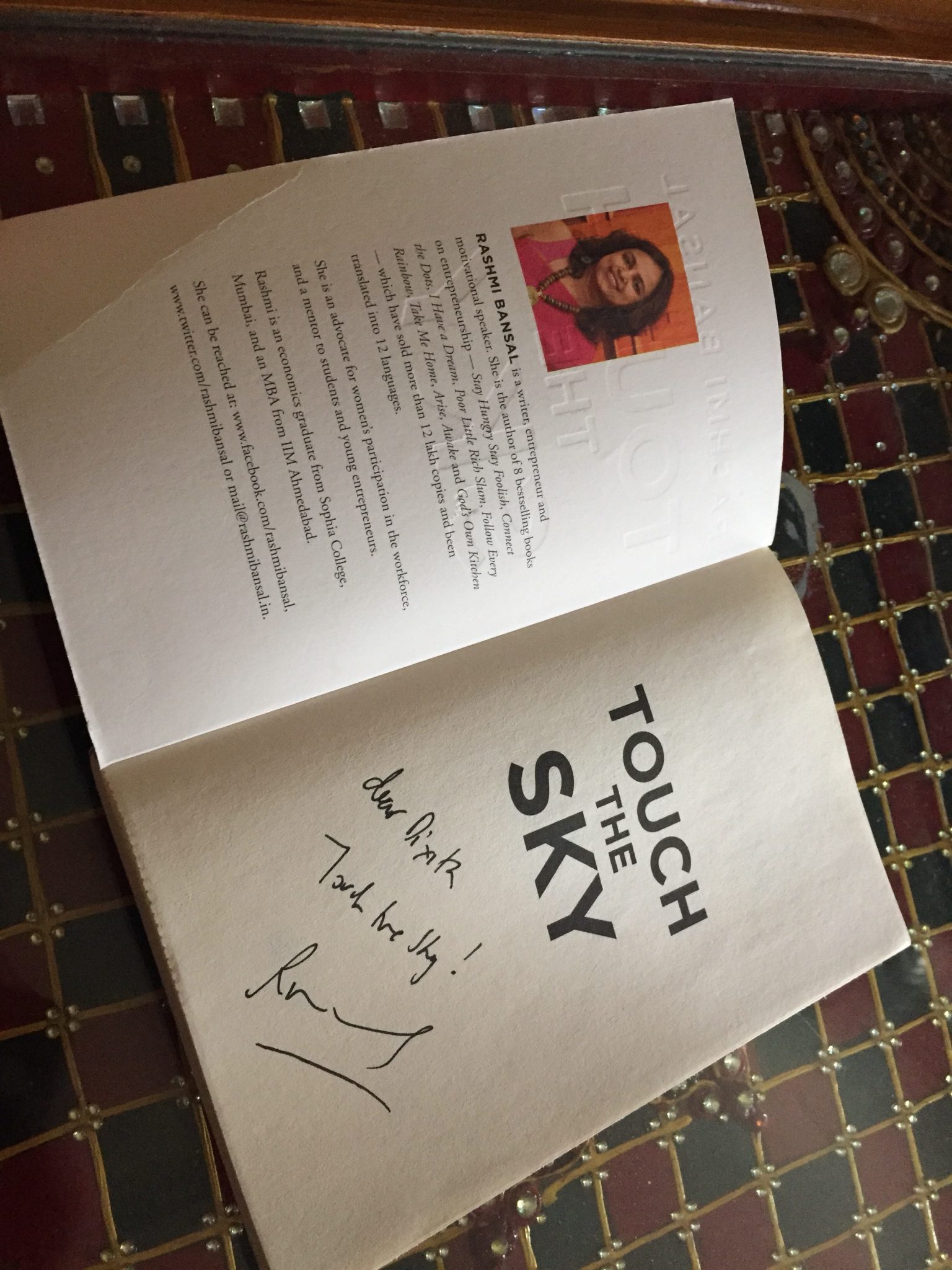 It is an inspiring short stories collection book written on Indian women Touch The Sky by Rashmi Bansal is a must read for all women seeking for some inspiration (Book Review )ho shared their personal life success stories. The book mainly revolves around three things –
Ziddi – Do not be stubborn, parents tell their daughters.  But every new idea, big idea, good idea has come into being because of unshakeable belief.
Besharam – (There is no good English term for the word 'sharram' oe 'besharam') ' Be modest' – this is what girls are told so that they stay where they are. So be Bold, think big, move ahead…others will follow.
Bindaas – A bindaas girl is one who is considred "cool". But Bindaas isn't about wearing cool clothes or speaking with an accent, it's a state of mind, an attitude.
I read the book within a day because the stories were so powerful that I wanted to read more and more about such courageous women. I am sharing here my favorite quotes from the book and also thanking the author for writing the book and requesting the publisher to bring many more such good books to a readers life.
to The Author – keep writing such powerful books. Loved reading the spirit of all women be it Bikerni, Pizza Granny, Mahila Sarpanch, football craze or weight loose diaries.
" Ladkiya ek baar jo soch le karne ki phir unko koi bhi musibat nahin rok sati he"
And in all the stories I noticed that one thing that If the family supoorts than life become easy warna  support na mile to bhi hamari Ziddi, beshram aur bindaas ladkiyo ko apni manzil pane se koi nahin rok sakta he aur safal hone ke baad toh sab sath dene lagte hain
Disclaimer- It is an honest review and written after reading the book without the influence of anyone else. We Hill Station Reader loves reading books so we review those books that gives a kick to the bibliophile inside us.