Saree is the most beautiful Indian Attire –
Saree is the most beautiful attire a woman can carry and it is my personal favourite attire of all the times.If a saree is perfectly draped it is most sexy of all outfits. Carrying a saree not only makes me feel confident but also gives me strength that Yes, I am a woman and I can do everything just with the grace. Recently I came across a hashtag #IndianEditLook where I saw women flaunting their beautiful sarees with the aim of re-bringing Indian Attire back to trend, so I thought to get one lovely saree for myself too. Then I got to know about a siteG3+ SURAT. Surat (largest textile city of India ) is a city of Gujarat which is famous for its sarees, I wanted a saree from G3fashion,
Sarees Store from Surat because going Surat from Rajasthan just for a saree isn't easy in busy life. This online platform came to me and every saree lover like a blessing because we can do G3+ Video Shopping here
My currently saree crushing over the website is-

About G3fashion.com, G3+ Video Shopping and more
G3Fashion is an online shopping platform which came like a boon for shopping lovers like me. There is a wide range of variety on website, The platform facilities party wear shopping for Men, Women and kids. They started with a brick in 1983 and are a huge building now in the world of textiles. Special features of the website –
Skype and FaceTime- Shopping isn't an easy task because we are spending our money into it, so whenever I think of online shoppig 1000's of question pops up in my mind, will it be good fabric? What if it is not of my size ? Bla bla bla …. but then For the first time I saw this option on a online site, we have to fix an appointment chatting with the admin and then we can arrange a video call and do G3+ Video Shopping over there. This is the best an online shopping platform can offer to its customers. It made me believe into Shopping online and made my life easier.
A quick guide on how to do Video shopping-
And not only that if you are tired of fixing a video call you can call them, mail them or text anytime –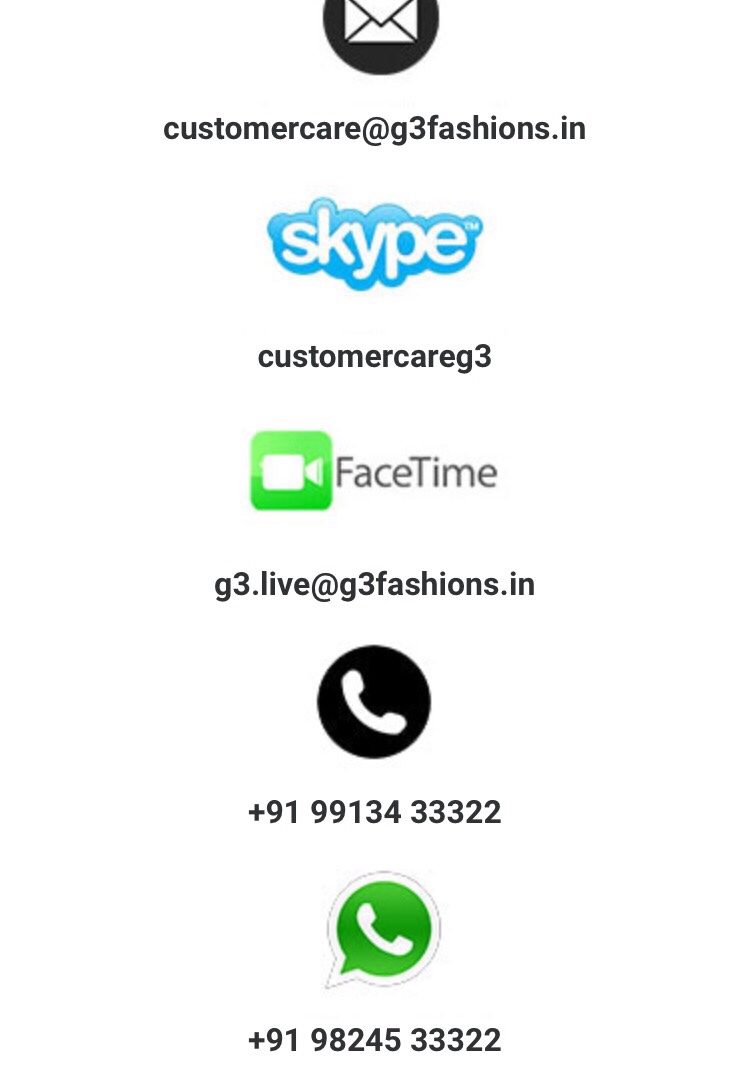 Discounts – For first time users there is a pop up menu giving 1k discount, it is like icing on the cake. Shop till you drop.
G3+WhatApp Shopping – We can explore the website and then talk with a person over WhatsApp and place our orders easily and get guidance over each step.
User Friendly- There is an easy payment system on the website with bank and cash options, shipping is done furiously within 48 hours plus there are cancellations  and return options too with terms and conditions. This makes it convenient for every user.
Online Shopping is made easier via G3fashion.com with the FaceTime and Skype options, so there are no more shopping online nightmares now. We can shop easily what we love just by sitting at home and enjoy. G3+ Video Shopping experience is awesome for me and I guess it will be revolutionary in the digital world,totally Adore and loving the G3+ Sarees Store from Surat, so I am developing a bonding with them online till I get to meet them at their own Surat Saree store in real.
Till then, shop unlimited till the next post comes up with such Fashion and Lifestyle shopping trends.