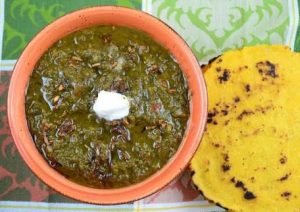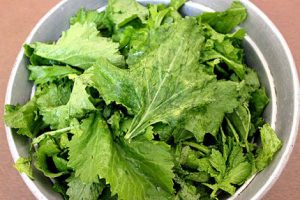 sarso ka saag recipe is an Indian food from the state of Punjab. It is a seasonal food and prepared during autumn. It is a vegetable and served as well as enjoyed with Corn bread (Makke ki roti and gur ) and jaggery. The recipe is rich in iron and good source of proteins because it is rich in Ghee and have Ginger in it which is again a useful ingredient during winters to cure cold and cough. It sounds super compliant but here in the post we have simplified the recipe and we are sure after reading it you will be able to make it, have it with your gang and then share the recipe with your foodies pals too –
Ingredients Required to make sarso ka saag recipe –
Sarso
Spinach
Green chilli – 2 in number
Tomatoes – 1 in number and finely chopped
Ginger Garlic paste
Desi Ghee – 1 tbsp
Mustard seeds
Cumin seeds
Salt to taste
Corn powder – 1 tsp
Water if needed
Wash sarso, green chilli, and spinach under running water and then boil them till they soften.
Separate the water from them.
Heat ghee in a pan, add mustard seeds, cumin seeds, then wait till it crackles, add the ginger garlic paste and chopped tomatoes. Fry it until the sides start releasing the Ghee.
Add the sarso spinach, and then crush with the help of spatula, add water if required, now we have to cook till it leaves ghee, add salt as per taste, then we have to add corn powder and mix it well.
Tada, it is ready… it is enjoyed hot on cold nights with Makke ki roti, and Gur ( corn chapati and jaggery ), the best food one can have in winters with family.
loved the recipe ? Make it at home and share your experience in the comments below, it will make my day.