Heart is Fragile, Keep it safe

Oils are many, Saffola Gold is Diamond.
The world is a rattrap where everyone is so much stressed that getting a peaceful sleep for six hours is like bliss.
In the hustle bustle of life everyone is busy in making money, so that they can lead a good life themselves and for their coming generations. Doctors are busy in saving life of others and thinking about the cure of various diseases.Some politicians are tensed about their chair while others are tensed with the thoughts of black money, terrorism, national and international problems like poverty, hunger etc.
Actors are busy in publicity stunts, actress are busy in looking beautiful and bold, students are busy in going to school with heavy bags, Old people are busy in their worship. Soldiers are busy in saving our life, police is busy in catching criminals, and super working moms are busy in working along with taking care of their kids.
Our younger generation is busy in problems of life, how to start a new business ? How to make money ? Which profession should I choose ?
Should I follow my dreams or should I go with my heart ? will I get a girlfriend this year ? What if my girlfriend rejects my proposal ?
What if I go against my parents and take a decision ?
And 'N' number of tensions ….
With all these tensions he wakes up, runs to earn and eat unhealthy food.
Usually the junk food, he ignores the healthy food and eat whatever he gets.
And in this he forgets that everyday life involves some food which contains oil, oil affects directly on his heart, and this is why he gets diseased and gets heart diseases at such an young age .
Presently many people get Heart diseases at young age comparing to old people and then I heard about
Saffola Life #ChhoteKadam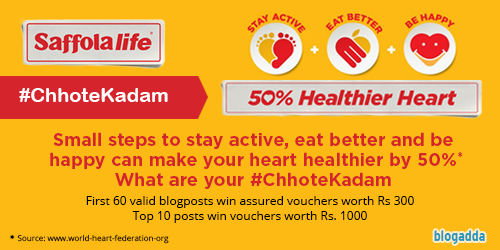 10 Benefits of Saffola Life –
Stay Active – When you add Saffola life in your diet, you feel happy and healthy .It is not just a brand but a step forward to healthy life. Thus oil not only reduces your cholesterol but also gives you strength to work throughout the day with a smile.
Stay better – You will better after using Saffola Rice bran than before, because it contains no fats. So your liver works properly without any carry acids collected on it.
Be Happy – A healthy diet keeps you healthy and health is first wealth. This keep you happy and you stay fit and energetic.
Nutrients – Saffola life Oil contains the nutrients and basic proteins which are essential for our daily diet.
Reputed Brand – Saffola Gold oil is recommended by doctors to all those who are suffering with heart diseases because it contains very little or no amount of fats.
One for all, All for one – In our kitchen we have different oils for different purpose, but we have Saffola Active oils, one oil is enough for all purpose like trying, cooking vegetables and making chutneys etc. It contains all the nutrients and us alone enough to go with all works.
Reduces Risk – Oil is a necessity in our kitchens, and we use Saffola active Rice bran oil, the chances of getting cardiovascular problems reduces .
 Rice Bran – It contains rice bran in it, which reduces cholesterol.
Healthy for Heart – Saffola oil is bit smelly but it is very healthy for heart.
Suitable for everyone – Saffola oil I suitable for kids, children and even old people. A healthy heart reduces stress and makes us happy.
I can tell many advantages of Saffola Active oil being a regular consumer of it, And I suggest everyone must use it for healthy and happy life.
And With Saffola life you will feel better, your heart stay healthy and you and your princess can sleep peacfully.
Disclaimer –
I am joining theSaffolalife #ChhoteKadam initiative in association with BlogAdda and follow these small steps for a healthy heart."
3. Share your blogpost on your Twitter profile and tag @Saffolalife and@blogadda along!
Views are personal  !