Almost everyone faces up an occasional flare-up of acne. Among 85% of teenagers it can be prevented to some degree at adolescence. Hormones are responsible for most case of this issue. Diet and other lifestyle factors including cleanliness and sexual activity do not cause it.
If you think your acne is a result of food sensitivity, try eliminating suspect foods from your diet for several week. Add them back to see if your skin is affected. Many times a number of medicines can cause spots. Major offenders includes steroids and other hormonal agents, iodine preparations, lithium and anti consultants. Store bought food often triggers a flare- up of acne.
How food can help in getting rid of acne ?
The health of a person is reflected by his clear and glowing skin. A healthy person requires regular exercising, adequate sleeping, quitting smoking and avoiding excessive exposure to the sun. They must also need to eat a well balanced diet rich in certain nutrients. It is true that food harms and heals.
The good nutrition is the first line of defense against acne or any other skin problems
Add Vitamin A and Vitamin C foods to diet. It includes brightly colored fruits and dark green vegetables. Citrus fruits, berries, Kiwi, melons, peppers, broccoli, cabbage and potatoes are rich source of vitamin C.
Include B6 – It is found in meat ,fish, poultry, whole grains, beans, lentils, avocado, nuts, potatoes, bananas and leafy greens.
Myth Some people believe that eating foods like chocolate, french fries and other high-fat favorites can lead to bad skin and make it worse.
Reality – Food does not cause acne. dermatologists stress it. Eating a healthy balanced diet is vitally important for good looking skin.
Tomato and lettuce salad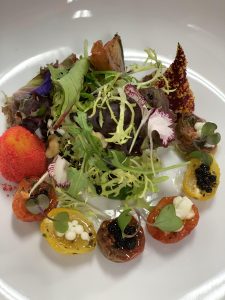 For dressing-
Lemon – 2
Olive oil – 2 tablespoon
Honey – 2 teaspoon
salt & pepper – as required
Mixing all the ingredients to a thick consistency .
Salad Ingredients –
Lettuce Iceberg rocket – 10 gm
Dandelion – 10gm
Fri see Lettuce – 10gm
Cherry tomatoes – 4 to5 in numbers
Beetroot – 1
Method –
Cut all the lettuce by hands and place it in a bowl. Cut beetroot And cheery tomatoes and place in the bowl too. Mix all the ingredients together.
Pour the dressing as required, mix it gently with soft hands, garnish with dandelion and frisee. Serve it fresh.
Check other recipe by chef here – chelli kebabs or corn kebabs
---
About – Rahul Bhatt is a young chef currently working at Florida, U.S.A. He spent his childhood days in the state of Uttarakhand. Chef has worked and experienced with many good chefs. He is a member of World Chef Socities  and Indian Culinary Forum .
Follow the Chef and get his recipes here – Instagram , Facebook ,