Before I share a lovely story of half relationship of Meets; girls and guys check this blockbuster Half Girlfriend movie Trailer
Majari,His Half Girlfriend –
Manjari was born at Darjeeling, a place blessed by nature and toy trains. She was very beautiful lady, her face glowed and carried a smile every time. People loved spending time with her. She was graduated in 90's where education wasn't given much importance, she wanted to study more but then she sacrificed it for her sister's further studies. She was Half Girlfriend to music.
Her family was her mother, father, 7 sisters and a brother.
Manjari was the most fashionable of all her sisters and had long hair which reached up to her knees, her smile was heart throbbing
She was very good in doing house hold works, embroidery, mehndi making, painting and in her life she gave great importance to plants and her pet dog Sheru.
Her balcony was very close to her, she brought flowers of different varieties and placed them in her balcony.
She watered them, talked with them and spraying water on them would bring freshness on her face.
Sheru was her favorite pet, she had also pet a white cat and two rabbits two.
Those rabbits were milk-white in color and were very naughty. Whenever anyone would enter house the rabbit followed that person and walked on his feet, also rabbits loved the sari of Manjari's mother so they would play with her sari. They ate food very slowly and came downwards the dinning table during lunch time
One day the cat ate the rabbits and from that day, the rabbits Majari sent the cats awaya nd Sheru was only left in the house with them.
Piano AND FLUte Classes –
Manjari loved taking part in different activities and she was also an all-rounder. So this time she Joined the piano and flute classes, she already knew Guitar and had very melodious voice. Her love for music was incredible, she traveled 10kms on foot to learn the flute and piano. When Manjari's father came to know about her going alone this much far to study, he protested this.
Manjari wasn't someone who would give up easily so she convinces her dad that she won't go alone to tye classes instead take Sherru along with her. His dad didn't like her going to learn music from the opposite gender of her, but now he had no choice left as his plan was crashed by Majarai.
Manjari would go daily with Sherry to learn music from famous Flute player Krishna Achraya. He was very good with flute and he played so much sweet tunes that anyone would fall for him. Manjari too was falling for him. She would think of him day and night. She rehearsed most her time to make her flute better and better so that she could impress her. Krishna always adored Manjari's passion for music and encouraged her daily, he was attracted by her.
And along with the flute and strings of piano their heart started to string too for each other. Sherru knew this all. He would cutely sit outside the gate and let them romance.
Krishna started to come to their home, he was like a family now and with lessons of flute Majari achieved the State level competition of Best Young Flute Artist. Success was at her footsteps, she started to get offers to give music for many live events and award functions. In the hustle bustle of life, she still loved Krishna, she would often date with him in the Indian Cafe of Dehradun. Often they would watch a movie together when she came to town taking break from her hard Schedule.
One day Krishna took her to a date, he blind folded her eyes and took her to a house. A new house, it had wooden floorings and it was nearby a river pool. The house had a tree house outside for reading books and was covered with green tall trees upto 2-3kms. He made the dream house exactly as Majari desired when they used to talk earlier.
Manjari was surprised to see this, she then sat outside in the river pool soaking her legs with him, and telling her how happy she is to see this.
Krishna took out the name plate and showed her, it contained her name embed with Majari's name at this Majari became sad, she loved Krishna, but did not want to marry him or had no guts to accept it. She was happy to be frie da with him, she wasn't dating anyone else. Also Krishna was his perfect dream partner too but Something stopped her to take the next step, to find out what stops couples at this stage to enter into a relationship watch Half Girlfriend releasing On 19 May, 2017.
And when I asked Majari, she said me that she don't hate love, she love falling in lovr but falling in a marriage gives heartache and depression, She says she lost her faith in marriage the day Her Father told her not to go outside alone to learn from a girl, she stopped believed in marriage the day her mother told her Girls are meant to sacrifice in life.
She wanted to leave a life of her own, a life free from depression, where no one would rule her.
P.S – I have read the book Half Girlfriend by Che tan Bhagat still I am excited to see Arjun Kapoor and his looks.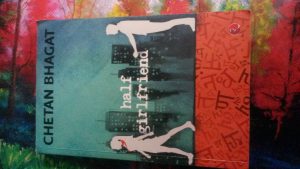 "I am sharing a Half relationship story at BlogAdda in association with #HalfGirlfriend"