Walnuts are healthy and delicious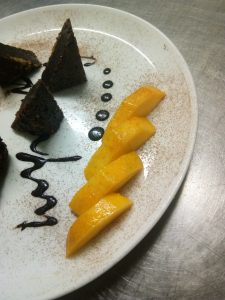 Walnuts are healthy and delicious at the same time. I start my mornings with 4 overnight soaked almonds and two walnuts. They increases my immunity and improves will power and as they are soaked whole night. They are fat free too. Hope you add this healthy habit to yoyr diet too. Walnuts can be used to make cakes, cookies and waknut brownie.
In the post I am sharing a desert walnut brownie recipe.
Buy the best walnuts and chocolates from here. These are affiliate links and if you buy from here I will also earn a little and it will help me to keep my blogging alive.
Hershey's Natural Cocoa Powder
Recipe of walnut brownie
Ingredients
200 g good quality dark chocolate (70%)
250 g unsalted butter
80 g dried sour cherries
50 g chopped nuts  (walnuts optional)
80 g quality cocoa powder
65 g plain flour
1 teaspoon baking powder
360 g caster sugar
4 large free-range eggs
How to make walnut brownie step by step
1- Preheat the oven to 180°C with greaseproof paper.
2- Snap the chocolate into a large bowl, add the butter and place over a pan of simmering water, until melted, stir regularly. Stir through the cherries and nuts or walnuts (if using).
3- shift the cocoa powder and flour into a separate bowl, add the baking powder and sugar, then mix together.
4- Add the dry ingredients to the chocolate, cherry walnuts and nut mixture and stir together well. Beat the eggs, then mix in until you have a silky consistency.
5- Pour the brownie mix into the baking tin, and place in the oven for around 25 minutes. The brownies should be slightly springy on the outside but still gooey in the middle.
Allow to cool in the tray.
6- Then carefully transfer to a large chopping board and cut into chunky squares.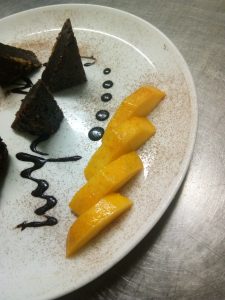 Delicious served with vanilla icecream or you can have with some fresh mangoes or you can have the walnut brownie  simply if you are a chocolates lover
Behind the Recipe –
Recipe and picture credit  Chef Rahul Bhatt –
About – Rahul Bhatt is a young chef from Uttrakhand. He worked with many of the Celebrity chef, Indian legend chefs as well as also worked with masterchef Sarah Todd and He is a member of
World Chef Socities  and Indian Culinary Forum
Follow the Chef and get his recipes by here – Instagram , Facebook ,
Twitter , Facebook page Chef Rahul Bhatt