Why Bitter Guard is a healthy food ?
Bitter guard (karela) as the name is combination of two words bitter and guard. We all make faces when we see bitter guard made by mom in dinner because of its bitter taste. I did the same in my childhood but one day I ate stuffed karela made by my granny and it was so delicious that I couldn't resist eating it whole. Granny also told me about the reason why it is called guard because it guards our health.
It controls diabities so it is a remedy to control high diabities.
It also Helps in keeping body slim if one takes karela juice regulary in diet.
Stuffed Karela  ( Bharwan Karela )
Ingredients
4 to 6 Karela (Bitter Guards )
Oil
For masala
2 onion
3 garlic cloves
Cumin seeds 2 tbsp
Corriander  seeds 2 tbsp
5 to 6 dry red chillies and
salt as per taste
Method of coking stuffed karela – 
For masala add all ingredients which are mentioned above in grinder and grind it to fine powder.
If you grind them on silbhatta, the taste will be doubled says my granny.
Heat oil in a pan and then add the paste in pan as required until it gets a golden brown color.
Wash them throughly under running tap water and dry with a muslin cloth.
Cut karelas in such a way from top to end that we can easily fill the masala in the guards.
After cutting microwave the karela so it can easily become tender. We can avoid this step and directly fry it too but is a chef tip to microwave them.
Then Heat oil in another pan and deep fry the karela till half done.
Take them out from pan let them cool for some time
Now stuff the karela with masala. Do it carefully else they may break.
Fry again the stuff karelas.
It's up to you how much crispy you want to make sure that you are frying it on low flame.
And serve it hot, enjoy with some cooked or steamed rice for the best taste.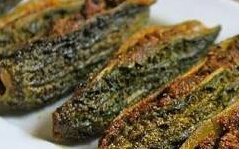 Recipe and picture credit  Chef Rahul Bhatt –
About – Rahul Bhatt is a young chef from Uttrakhand. He worked with many of the Celebrity chef, Indian legend chefs as well as also worked with masterchef Sarah Todd and He is a member of
World Chef Socities  and Indian Culinary Forum
Follow the Chef and get his recipes by here – Instagram , Facebook ,
Twitter , Facebook page Chef Rahul Bhatt