Gujarati food is as colorful as it's people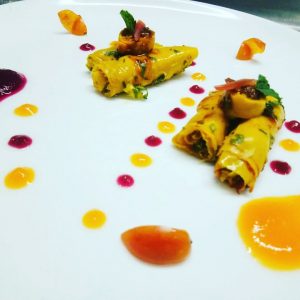 Gujarat is a colorful state of India and along with its people its food is equally very colorful and delicious. It is always a delight for me to eat Gujarati food. One of my favourite from Gujarati cuisine is Khandvi. On a recent twitter chat with Gujarati friends I discovered some of the famous Khanavi stores.
If you are at Gujarat and want to enjoy the famous Khandvi then you must visit the cities Vadodara or Surat. Famous shops ate Sadguru Khaman house, yagnik Road, payal Farsaan, gwaliya farsaan, Geeta Khaman house etc.
Recipe of Khandvi
Buy quality besan from Amazon here-
Recipe and picture credit  Chef Rahul Bhatt –
About – Rahul Bhatt is a young chef from Uttrakhand. He worked with many of the Celebrity chef, Indian legend chefs as well as also worked with masterchef Sarah Todd and He is a member of
World Chef Socities  and Indian Culinary Forum
Follow the Chef and get his recipes by here – Instagram , Facebook ,