About the Author Anand Suspi –
Anand Suspi has been an advertising writer for the past 20 years. He resides at Gurgaon and runs his own agency called AndAnd.The book Full pants Half Pants shows us how beautiful life once was and is written with the idea of making Memories of childhood alive among adults.
Keep your phone aside for two days and pick this book, it is a way to take you back to childhood days without a time machine.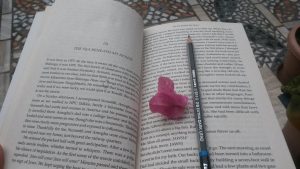 Half Pants Full Pants Book review
The book is divided into Half Pant tales from Shimoga, Full Pant tales from Shimoga and a bonus material. It begins with introduction of the Town Shimoga.
During childhood we believed in so many myths. The author shares his experience about how their gang believed about the conversion of a coin to magnet if placed under a running train.
The slang like Bombaat which means fabulous. We all use such slangs in our friendship. In the book there lies friendship, respect for parents, an eagerness in the people to help the needy like the village people.
In my childhood days I too had a gang and we too made plans every now and then like the library thing. Your mosquito stunts, sibling fight and the guava throws were really so much anger like an Angry Young man.
I was happy to know about letter to unknown strangers idea and you were so lucky in the Rajiv Gandhi case. The school days were totally amazing.
Your daddy was lucky with his bicycle and when you had a chance with bicycle you chosen the one that your dad desired and then then cold war between you and your daddy in the college days remained me of my time with my parents.
I laughed too hard at the Hanuman and punishment thing. The 3/4th pant was swag. The pooja by relatives and the myths, they stay in every house.
One thing that I didn't like was the eating blade. It could be dangerous if anyone tries to commit it. You were brave with the chilli powder and colas.
The most touching part for me was when you wanted to buy a washing machine for your parents but then ended up purchasing so much home products and then how your daddy collected and replaced them all with a sentence.
You made me smile and hooked with your book till the end
I recommend everyone to read Half Pants Full Pants book by Aanad Suspi at one point of life when you miss your childhood the most and want to relive it.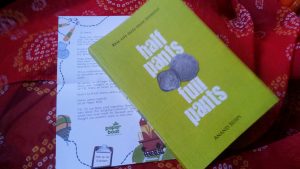 Conclusion –
Ratings -4/5
On the backside of the book it is written that this book is simply putdownable.
Yes, it is really putdownable because after reading every chapter it drives us to our childhood memories and makes us nostalgic. I am from Rajasthan but I love Shimoga the little town of yours, that trains. Life in railway quarters and all your favorite hate vegetables are my favorite hate vegetables too.
Disclaimer – I have read the book Half Pants Full Pants personally and written the review. It is a magical book that makes you smile with every chapter.
Thank a ton to  Paper Boat Drinks for sending me the copy of the book. I am happy to receive it.