About the book – 
The book My India Ideas for the future is a non fiction book and is foreword by Srijan Pal Singh in honour of Dr A.P.J. Abdul Kalam ( 1931-2015 ). A.P.J. Abdul Kalam sir was the most loved President Of India, a brilliant scientist and a great human being.
My Reviews on the book –
Ratings – 5/5
Publisher – PUffin By Penguin Books India 2015
Genre – Non fiction
You will love the book ? – Yes, no reason to not love the inspiration. This book is a must read for students and for all those who are diverted from their goals in life.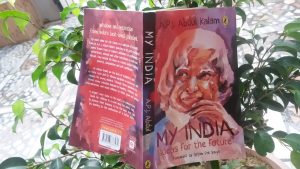 My India Ideas for the future –
As the book is a foreword by Srijan pal singh a student of Kalam sir and researched by Shrukeerti Khurana; it is a collection of life experiences of Dr. Kalam. In the book My India Ideas for the future there are wonderful real life stories.
Kalam sir spent his entire life serving the nation, even during his last breath he was delivering a live speech to students and he believes that the only wealth that one must posses with him are books. Books keep us educated and also they can be our wealth when we need them.
He was a man whose everyday life is motivation, one day during a successful mission, CM asked him for what he wanted for the success, and in return he asked for 1 lakh plants for that area. This made me smile and my respect for him has no limits now.
I feel I am most lucky person on earth because I have his blessings in form of his autograph which will stay always near my heart and keep guiding me in achieving my dream.
My Favorite Quotes from My India ideas for the future –
Do your best and leave the rest.
Failure is a teacher
Six virtues of a healthcare giver – generosity,  pure ethics, tolerance,  perseverance,  cultivating pure concentration and intelligence.
Work with integrity and succeed with integrity.
A gift is a dangerous thing.
I am taking My Alexa Rank to the next level with My Friend Alexa during the month of September along with Blogchatter
My Alexarank on 1st September 2017 is 3,586,404
My target is reaching below 1,00,000.