This Grandparents day surprise them with a visit 💙
They have dedicated their whole life for usp

Grandparents love is unconditional. They love their grand kids the most in life. So when they are in old age it is our duty  to take care of their every little work like providing them with reading glasses, cutting their nails every weekend, giving medicines and food on time, providing them warm water to bath , talking with them, listening to their old-time stories so they don't get bored on that bed, most importantly massaging their hands and feet with warm coconut oil, serving them their favorite cup of tea ( sugar-free) and taking them to doctor on time for regular checkups.
Before I begin this post I would like to thank God for blessing me with the best Grandparents. I am happy I have them in my life, they guided me in each path of my life and are the two best soul I could ever have. My grandparents are in their 90's now, they are bed ridden  and are surviving on medicines, this makes me sad but I stay with them as much as possible because they are the heartbeats to my heart. I can't imagine a day of my life without them.
When I seen  Blogadda   tweeting something about Grandparents day I decided to share my bonding with my grandparents. And it made me cry at the end – the tears of joy. I have the best grandparents.
Grandparents are like God on Earth in real
No love in this world can match up the love that of grandparents and grandkids. It is a beautiful relationship where each one of them protects each other. Sometimes when I catch my grandpa eating sweets I don't scold him for this and bring him more sweets to eat. It makes him happy and even happier to me because those sweets are sugar-free ones.
I grew up with my granny, on Sundays when I used to be at home, I sit with her in kitchen while she cooked food. Today I can cook anything in my kitchen, it's all I learned observing her. I haven't taken any cooking classes. Once while granny was making chapatis I said I want to make it too, she gave me the opportunity and in two-three turns I became perfect in making it. Mom would scold me if I disturbed her while cooking but granny always listens to me and this is the reason love and care is the best teacher one can have in life.
Grandparents shaped me with so much of their lifetime experiences. They never scolded me but pointed out my mistakes and corrected it. This has been the greatest lesson of my life.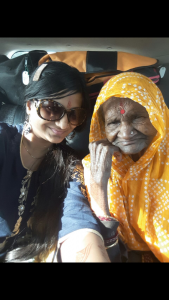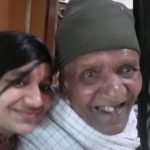 I celebrate Grandparents day everyday –
I massage their palm and feet with

warm coconut oil and braids ponytail of my granny after applying coconut hair oil it. These oil acts as a balm in their old age and takes away pain from joints.

Earlier when I was 5 my grandparents told her bedtime stories, now I  tell them bedtime stories from the latest mythological novels I read. I play them bhajans in my phone and show them kaths on you tube. This leaves them in awe because of technology.

My grandparents protect me from scoldings of my parents and brings me dry fruits and candies. They always stand by my side even if I am wrong at times and overpampers me

When I get hurt, my grandparents feel the pain and vice versa.

Due to old days my grandparents can't see now so I cut their nails and they say I am their favourite among 7 grandkids. This often jealous other kids. But I am happy because I truly know that serving grandparents brings a smile to my face. It is not a burden on me.

My grandparents are more frank than my parents. They don't mind if i wear short dress, or talk to boys. They believe in me. They also talk about my studies, my ideas of my future life and career opportunities. We discuss rainfall, I read them books and they tell me stories of life in 60's.
We are the best friend for life and beyond. My life revolves around them. They are in their 90's now so I am scared to lose them one day but then I console myself and smile because Nothing is permanent. I am trying to make their old age less painful by becoming a stick for them.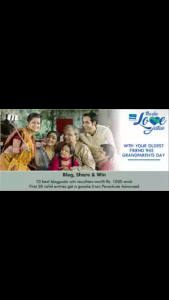 I look forward to hear from you how would you celebrate Grandparents Day.
And if you want to plan something extra ordinary for grandparents day on September 10 then check  #LoveJatao .
They have some nice and creative ideas for our grandparents, it will make them feel good and bring a smile on their face.