Kanha to Krishna book is the journey to Divinity is a mythological Fiction written by author Pranab Mullick published by Readomania.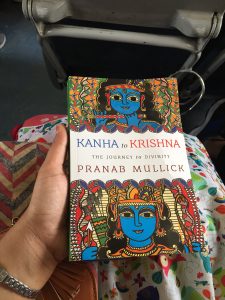 Name – Kanha To Krishna : The journey to divinity.
Genre – Fiction
Publisher- Readomania
Price – 295
My ratings – 4/5
Special thanks to Blogchatter for sending me the review copy.
About the Author –
Pranab Mullick was born at Kolkota. He is an educated man with good achievements in his school and high school days. The man was inspired to write from his grandfather and Rabindranath Tagore works. He wrote short stories in English, Hindi and has also won for stories written in Bengali. His book Kanha to Krishna is his debut book as an author.
About the book –
Kanha to Krishna is a beautiful Fiction on mythological stories based on the life of God. I have read stories about Krishna from childhood but reading the same story in this book was completely different for me. Author tried his best to take us to the times of Krishna's birth, describing the sacrifice of 8 new born babies, political system during those time, different caste systems prevailing etc.
Krishna for me is always the stealer Of heart. Reading about him was no different, I smiled whenever I read his appearance. His leelas and then the sharpen thinking to end the evil will be every kids inspiration.
I recommend this book to those who loves and want to explore in detail the reason of Krishna's birth
Disclaimer – I received it as a part of Blogchatter Book Review program to read and review it on my blog. I hereby confirm that I have read it and written an unbiased review without the undue influence of anyone. I thank Blogchatter for sending me the review copy and hope to stay connected to their future bookreview programs.
You can also check my other bookreviews here