ICICI Lombard, India's first leading non private non-life insurance company conducted a press
conference at Mumbai on 26th August 2022. The main agenda of the conference was to talk about
their new launches. The meeting covered up certain topics like where we started to where we want
to reach in future. They proudly shared their first moments and were keen about the new launches.
Their new launches include 14 new or innovated insurance solutions in the health, motor, travel and
corporate sectors.
ICICI Lombard in the past years –
The meeting brought up that ICICI Lombard is the 1st private insurer in India and 2nd largest general
insurer of Country. It also was the first motor insurer and there are 2.3 Million downloads of flagship
App IL Take Care. Apart from this the institutions has received accolades and honor in many other
areas of work.
This is the first bank to move entire core system to cloud this year
It is the first industry to launch fully digital and cashless OPD and wellness programs
First to launch digital SME products on sme.icicilombard.com
First industry to launch multiyear and family floater health insurance policy
This is also the first industry to provide face scan to give health important information in less
than 2 minutes
It is the first one to launch TPA with centralized and state of the art facility.
They are also the first one to provide value added services for corporate and SMEs.
ICICI Lombard is the first one to start Insta Spect policy. The policy is related to self-inspection feature
that avoid the need of physical inspection of cars.
About the new launches – ICICI Lombard
The conference covered their major information about the new launches. The new launches are
mostly an update in the existing insurance services provided keeping in mind the digitization and
the risk factors that were faced during the times of the pandemic .More details about the new
launches include –
Health Advantage – This product provides coverage for hospitalization expenses incurred both domestic and overseas. It covers medical expenses incurred before and after hospitalization, unlimited tel consultations, and coverage for air ambulance.
BeFit – It was initially started in 20 locations and now covers up to 50 locations. It is comprehensive cashless OPD solution that provides coverage for pharmacy minor procedures that not requires hospitalization, and many other ailments such as common cold or flu, coverage for prescribed diagonistic tests, physiotherapy, coverage etc.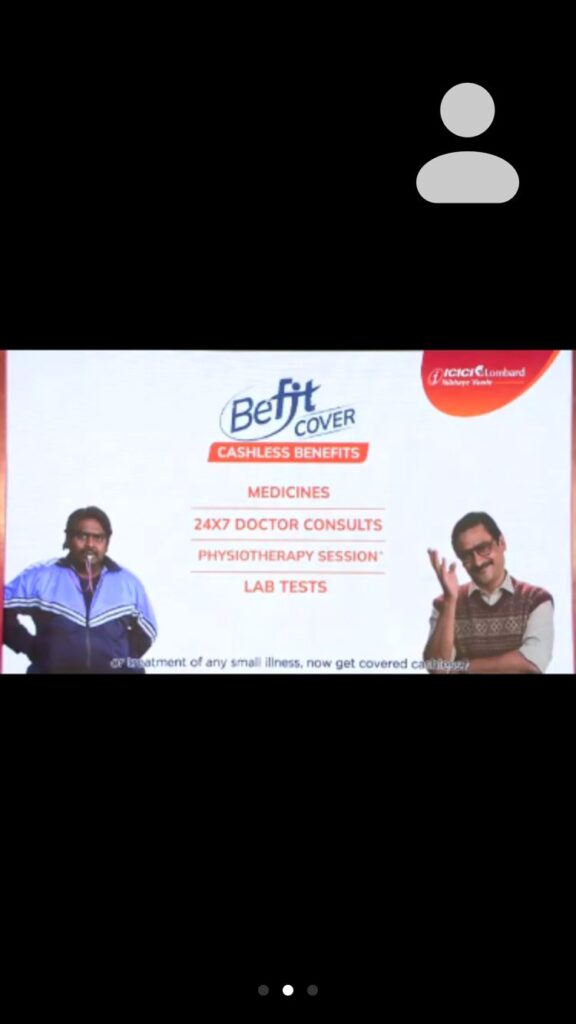 CHI and Health booster – host of products across segments and age groups such as CHI, health boaster critishield and family shield
Motor Floater insurance – Under this customer can enjoy with a single policy, single renewal date
and single premium for all their motor policies. It benefits in premium for other motor vehicles too.
Telematics ad-on – Under this the person is required to pay the premium based on the usage of the
product. It covers pay premium as you use and pay as how you use the product.
Drone Insurance – It covers insurance on theft or loss of the product during flight and while on ground including third part liability.
Voyager travel insurance – It covers both domestic and overseas travel up to one year and is
categorized to meet the modern day life travel needs foo comfort and leisure.
Club Royale home insurance – This or her family against the losses incurred due to any fraud
happened in the cyber space.
Retail Cyber liability Insurance – This or her family against the losses incurred due to any fraud
happened in the cyber space.
EMI – If the vehicle is involved in any accident, it covers the total liable EMI amount for which the
person's vehicle is under repair in a garage.
EME – It covers expenses on the occupant of the vehicle against medical expenses in the event of
any accident.
The conference by ICICI Lombard covered up the essential elements that were required in insurance sector in the
upcoming times. The launches are going to be fruitful for many insurers due to details kept in mind.