Spark and Glam this festive season 
Clean Homes, Frills and sparks everywhere, Festivals of lights is coming and so is coming the wedding season. And now it time for some shopping, this time I am drooling over some gorgeous Lehenga Saree with Myntra. Lehenga Saree is a cocktail outfit that is combination of two of Main Indian Traditional wears, one is Saree and other is Lehenga Choli, so when we carry it, it gives the look of both Lehenga and Saree plus it is easy to wear as it is automatically stiched.
Ladies are graceful and everything they carry adds elegance to their style, so this time if you want to add a long lasting impression among the kitty party friends on your Diwali party, you must flaunt your Lehenga Saree that will be remembered and adored by everyone for years.
How to team up Lehenga Saree –
Are you a bride to be ? Then you must create your dream bride look with Lehenga Saree and these newly in trend gotta patti or fresh floral jewellery for that royal look.
High Heels is a must to sting at the heartstrings of guys and to enhance the look of your lehnga saree outfit.
Add some bangles and a messy hair pony in french style with some smoky eye makeup and red lipstick.
Glam And Glitter Online Shopping Of Lehenga Saree with Myntra –
Myntra is a very popular Online Shopping  site. There is a wide range of variety in brands with amazing deals and discounts on every products. My hunt for perfect Lehenga Saree was full filled here, there is choice in brands like Triveni, Chabra 555, MAHOTSAV, Touch trends, Parchayi, Bhelpuri. Here are few handpicked designs liked by me –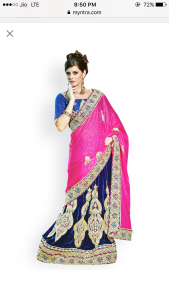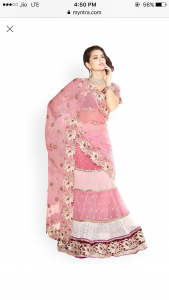 I am going to add one of these Lehenga Saree with Myntra online Shopping It is very easy to add favourite styles to our collection, we can get these fit as per our size. These are easily customisable and more importantly fits in budgets.
I loved these designer Lehenga Saree and believe me they are going to be once in life investment for brides in their wardrobe, young girls can impress their guys and more importantly fashion trends are rising to a new standard with the inflation in customer taste and preferences these are perfect. I am always confused about carrying a Lehenga or a saree so this came to me as a perfect solution As it gives me look of both Saree and Lehenga in one outfit, I also named it as Lehenga Saree Cocktail outfit. After wearing this outfit we will not only get compliments but will be remembered for picking up that unique style.
These lehenga saree can be wore on many occasions like by a newly married bride on karwachauth, the festival of Diwali during pooja or marriage parties of best friend and other such occasions. This will not only make you look good infront of others but will make you feel beautiful from inside.
Disclaimer – It is a sponsored post but the views are personal and bias free.