How to rock the parties ?
Are you a party girl ? Then you have landed at the right place. In today's post I will be sharing a few hacks to rock the late night parties.
A black LBD is always the best dress you can carry if you are going on late night parties.
The next thing that worries us girls is which heels to wear ? What should be the makeup and most importantly the color of the nailpaint, the smoky eyes makeup and the lipstick shade.
Well In my upcoming posts I will be coming up with solution to each one of the topic one by one.
Let's begin in this post with one of my Favorite  Nail paint shade to rock in the parties.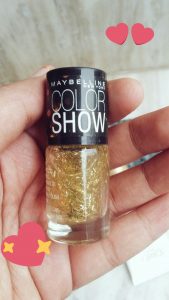 About Shade Dreams Of Gold – 
The following nailpaint which I am reviewing is a product of Brand Maybelline New York, a color show nailpaint in shade Dreams Of Gold under their Gold Digger collection which is my current most favorite Nailpaint.
Brand  – Maybelline New York
Price – 145/- only
Product Type – Color Show Nailpaint
Color – Transparent liquid
Consistency – Golden Strainds.
Net Volume – 6ml.
Buy the shade here  – Gold Digger 6 Shades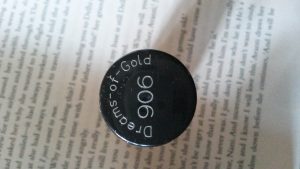 Benefits of The Shade Dreams Of Gold –
The shade is a party Bomb.
Easy affordable.
Goes with all the outfits.
Best during parties, celebrations and functions.
There is no hard rules to apply it, just open the lid apply two or three strokes on nails and it is done.
It dries immediately.
The shades remain long on nails.It doesn't  fade or leave nails easily unless and until removed with a nailpaint remover.
It isn't too vibrant color to eyes but has a soothing impression when teamed with party dresses.
The only disadvantage of the shade is that you have keep the shade away from your sister or friends else would run after you to convince them to take the shade from you…haha, yes it is that drooling.
When I got the shade each friend of mine complimented  me for it and asked me from where I got it. Thy called me that I had great Fashion sense, they couldn't find it and then I told them To checkout  the Gold Digger collection
Ssssssssh…Don't  speak loud else everyone will know about the hack.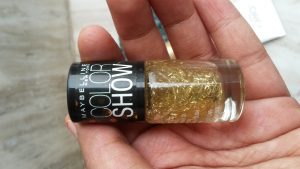 Winks* enjoy, share your experiences  with me when you explore the shade and If you have any personal favorite shade which  is ao tempting and perfect to rock the party, feel free to share it with us.
Disclaimer  – It is not a sponsored post but written with personal  experience after use.